13 results - showing 1 - 10
Tool Blog
Chris September 24, 2014
1
0
You have all built your own edge sanders using just everyday shop materials, right? But have you taken it to the next level and made a fully functional oscillating edge sander, with bonus spindle sander? If you have you can stop reading here, but if you haven't you want to check out the video from Bellevue Woodshop below.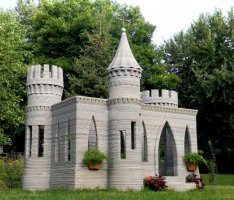 Gadgets
Chris September 02, 2014
1
1
Andrey Rudenko, an engineer in Minnesota, has successfully built a large scale castle using a custom designed 3D concrete printer, and that is just the beginning. He started experimenting with 3D printing concrete about 20 years ago and now the technology is here to make full-scale 3D home printing possible.
Videos
Chris January 28, 2014
1
0
Something we learn as a carpenter, or maybe more so as a woodworker, is that we can never have too many clamps. Building up a collection of clamps is usually something that is done over many years, which helps spread out the costs. But if you need clamps now and don't have a bunch of money, there is another option—make your own.
News
Chris July 25, 2013
1
1
I have always looked at the Festool MFT (Multi-Function Table) as great little work table, but not practical for jobsite use. I just never liked the idea of having to carry it around on the jobsite along with all of my other tools. But Timothy Wilmots' modified MFTC (Multi-Function Tool Cart) looks like an ideal way to transport both the MFT and your tools.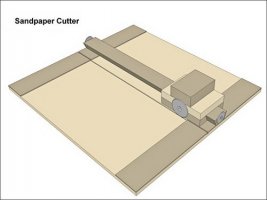 Gadgets
Chris July 24, 2013
1
1
If you have an electric sander that uses ½ or ¼-sheets of sandpaper, you probably find yourself spending a bit of time cutting your sheets to the correct size. If you use your sander fairly often, it can be a hassle cutting sheet after sheet. While cutting sandpaper is not exactly hard to do—and there are plenty of ways to do it—John Heisz from iBuildit.ca has a better way.
News
Chris May 14, 2013
1
0
Often times the homemade tools we find are more interesting than the actual tools they are meant to mimic. Such is the case with a rotary tool design that is powered by the suction of a vacuum and has the secondary effect of cleaning up after itself.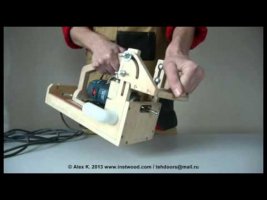 Cool Tools
Chris March 28, 2013
2
0
I think we can all pretty much agree that the Festool Domino mortiser is one cool machine. We might not all need one, but we can admire the engineering and the capabilities of the tool. So how much more impressed are we that a Russian carpenter made a similar functioning machine out of some basic shop tools.
News
Chris December 11, 2012
1
0
Here at Tool-Rank it is not always about showcasing the best new tools to hit the market; we also like to show you how you can use the tools you already own in ways you might not have expected. There are always more than one way to solve a problem and when one man needed a lathe, he turned to his mini grinder.
News
Chris November 30, 2012
1
1
It is always very impressive to me to see the homemade tools that people make; the more complex the tool, the more impressive it is to me. So you can imagine how excited I was to see that someone made a rather complex scroll saw out of wood and a bit of electronics.
News
Chris September 25, 2012
2
1
How many of you have ever had the idea of building a dust collector from scratch? Mathias Wandel had this idea and decided to show us his progress on Youtube. A dust collector doesn't seem very complicated, but it turns out that there is a whole heck of a lot of engineering that goes into making one that works well. The hard part of building your own dust collector is coming up with a design that does a good job of filtering out dust but still has enough power and capacity to handle the debris that your tools throw...
13 results - showing 1 - 10