9 results - showing 1 - 9
Hot Deals
Chris May 28, 2014
0
1
If you are looking for a table saw at a bargain price, look no further than the DeWalt DW745 10-inch Compact Table Saw. I happened to notice that HomeDepot.com has them for the low price of only $269.00. A quick look around the internet and you will see this is priced lower than even refurbished models.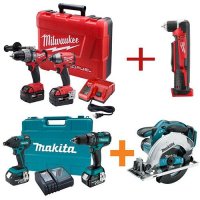 Hot Deals
Chris November 07, 2013
0
1
A reader sent in a tip about some sweet Free Bonus Tool promotions (with purchase of select Cordless Combo Kits) going on at HomeDepot. Initially we thought the promotion only applied to Makita and Milwaukee Tools, but it turns out there are DeWalt, Ridgid, Ryobi and Bosch deals as well.
News
Chris June 26, 2013
3
0
Over the past few years a video of an amazing water repellent called NeverWet has been circulating around the internet gathering millions of view. Not only could a NeverWet treated shirt keep the rain out, but even chocolate syrup was no match against treated white canvas sneakers. Everyone who watched the video instantly wanted the product. Years later, the consumer version is finally available.
Hot Deals
Chris January 14, 2013
0
1
20% off Harbor Freight Coupons can not only get you some pretty good deals on some decent tools at Harbor Freight, but did you know you can use these same coupons at other stores to save you big money on real tools?
Hot Deals
Chris July 17, 2012
0
1
A few months back I criticized Home Depot on Twitter for the rather lame coupons they were sending out in their Home Depot Pro newsletters. The coupon (advertised as a Home Depot Pro Exclusive) offered a savings of $5 of off a $150 or more purchase. Are you kidding me? What a joke. Well now it looks like Home Depot is finally offering real savings in these exclusive coupons they are sending out.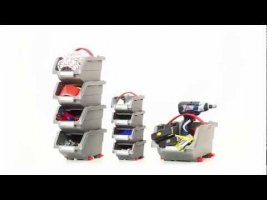 News
Chris June 07, 2012
1
0
So I was perusing the Keter website the other day and came across their new Click Bin product. The Click Bin is similar to other stackable small parts bins on the market today, but what sets it apart is the ability to lock the bins together in stacks, kind of like the modular toolboxes from other manufacturers.
News
Chris April 23, 2012
0
0
The JobMax is a tool that Ridgid makes that features a corded or cordless body that can accept interchangeable heads. The System has been out for a while now, with improvements and attachments coming along the way. Now it appears the next step for the JobMax system is to go pneumatic.
News
Chris January 09, 2011
0
0
Bosch is launching what they are calling a store within a store at select Home Depot Stores. This new Bosch store inside of The Home Depot is called the Bosch ProCenter, and is likely an area set aside just for Bosch tools. Also on hand at the Bosch ProCenter will be a Certified Expert to help answer any questions you might have about Bosch tools, and give tool demonstrations. Sounds like what Hilti did. Right now the Bosch ProCenter can only be found at a few Home Depot stores in the Chicago, Houston, and Miami areas,...
News
Chris October 26, 2009
0
0
During my recent look over at the Ridgid website I noticed something interesting. Ridgid is now re-branding a few of the more common MagSwitch products. This is likely to mean you have a pretty good chance of getting these at your local HomeDepot, or having them ordered from HD if they can not be found in your area. This is a smart move for MagSwitch if HomeDepot makes them available in most of there stores. This could also do a lot to get the MagSwitch name out there.
9 results - showing 1 - 9