5 results - showing 1 - 5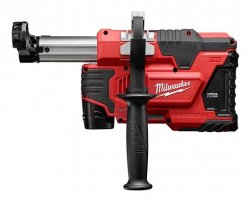 News
Chris   February 07, 2013  
1
1
The Milwaukee M12 HammerVac is a dust extractor that collects the dust that your rotary hammer makes while drilling, but unlike other cordless rotary hammer vacuums, the HammerVac works on other brand's drills too.
News
Chris   February 01, 2013  
4
1
Makita has been making a real effort to offer dust collection accessory options for many of their new tools, which is something I really like, but until now they have been without an actual dust extractor of their own. So what does Makita and their new Xtraxt Vac (VC4710) have to offer?
News
Chris   September 21, 2012  
0
1
One thing I really hate is jobsite dust, especially concrete dust. It gets all over the finished woodwork and always finds a way into my lungs. So the way to combat dust is to use a vacuum or a dust extractor. But we need one small enough to fit in the truck with the rest of the tools, and Bosch has one in the new 3931B-SPB 6.6-gallon Wet/Dry Vacuum.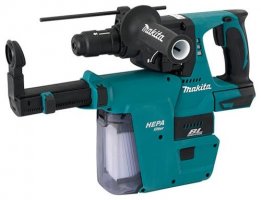 News
Chris   September 04, 2012  
0
4
Almost exactly 3 years ago Makita announced their first 36-volt cordless tool, and today we got word of a new 36-volt rotary hammer that I assume will take its place. There is also news of a new Makita 18-volt rotary hammer that is brushless and even has an on-board HEPA vac option.
News
Chris   January 26, 2012  
0
2
Dust collection systems, attachments and accessories always seem to be popular at the World of Concrete trade show. With concrete being the main ingredient of the show, there is bound to be a fair amount of concrete dust, so it is only obvious to showcase tools that help clean it up. Bosch has come out with a number of new DC products that are sure to be welcomed by the people that would normally have to work in a cloud of dust.
5 results - showing 1 - 5