12 results - showing 1 - 10  
Tool Blog
Gary   June 19, 2015  
1
7
Attending Milwaukee Tool Company's 2015 new product symposium gives me the responsibility of sharing with you some of Milwaukee's great new tools; but this year, more so than others, I have the greater (the bound) responsibility of not sharing some of what Milwaukee has for us in the near future. So, bound by contract until August 1st, about that I'll just say that Milwaukee Tool Company is still all about disruptive innovation. However, since the purpose of the event is to reveal (not conceal) their new tools, let me start by highlighting a few.
Tool Blog
Chris   September 10, 2014  
0
2
Bosch has expanded their heated work wear line to include a new version of their PSJ120 heated jacket, this time for women. The new Bosch women's heated jacket has all the great features that can be found in the men's jacket, but it has a tailored-fit that is contoured to better match a woman's shape.
Tool Blog
Chris   August 06, 2014  
0
7
DeWalt is adding to their 20V Max/12V Max heated gear line with the addition of 7 new heated jacket styles. The expansion includes a new khaki heated jacket (with hood) color option, a 3-in-1 high-visibility heated jacket w/ hood, a heated vest with attachable sleeves, three new heated hoodies, and a woman's heated jacket with a removable hood.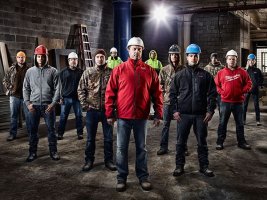 News
Chris   July 02, 2014  
0
1
It may be hard to believe, but Milwaukee is in their fifth season of making their M12 Heated Gear. When they come out later this year, the lineup will include more color and camouflaged jacket/hoodie choices, a new jacket design, and even a new 3-in-1 jacket style.
Hot Deals
Chris   January 17, 2014  
0
1
I just spotted a new deal on Amazon where if you purchase a Bosch Heated Jacket, they will include a 12V Battery and Charger Free of charge. As far as I know Bosch doesn't sell their heated jackets as a kit that includes a battery and charger, so this is a great way for non-Bosch owners to get in on the warmth.
Tool Blog
Chris   August 12, 2013  
0
3
Just in time for the cold that comes along will fall, Bosch has announced that they too will be coming out with a 12V Max Heated Jacket (Model PSJ120). Additionally, this means that they are also offering a 12V USB portable power source that powers the jacket and other USB powered devices.
News
Chris   July 30, 2013  
0
6
DeWalt has just announced that they will be bringing a line of four heated jackets to the market this September. After the success of heated jackets from their competitor, they were sure to be getting requests from their users to offer a similar product. They would be fools not to deliver.
News
Chris   July 29, 2013  
1
7
During their media event back in June, Milwaukee announced that they would be expanding their heated gear line with new M12 Heated Hoodies, M12 Heated hand Warmers, and finally a M12 heated Jacket for Women. And while these do not officially go on sale until August, you can reserve yours now with a pre-order.
News
Gary   June 17, 2013  
4
8
sym•po•si•um [sim-poh-zee-uh m] n. a dynamic conference organized for the discussion of the latest innovative Milwaukee tools Before highlighting a sample of the many great tools revealed in this event held last week, it was helpful for me to first check my dictionary for the proper usage of the word; and though Webster might not have defined it exactly this way, having first-look at Milwaukee's latest innovative tools indeed made the Milwaukee tool new product symposium a dynamic conference. With expert product managers showcasing tools like the latest M18 FUEL cordless line; a M18 cordless LED...
Hot Deals
Chris   June 21, 2012  
0
0
Milwaukee just recently announced some new updated versions of their popular M12 cordless heated jackets and it looks like with the new model's release being just around the corner, CPO Outlets has marked down much of their current stock to just $139.99. This price includes the jacket, the battery and the charger. If you already have a M12 battery and charger, CPO also has select Jacket Only sizes and styles for only $99.99. The regular price of the Milwaukee Heated Jacket kits are still in the $170 range and I believe when the jackets...
12 results - showing 1 - 10