4 results - showing 1 - 4
Hot Deals
Chris August 21, 2013
1
1
Most people might not be aware of this, but hard hats expire. The expiration date varies by manufacturer, and it also varies depending on your working conditions, but most manufactures recommend you replace your hard hat every five years. But do you remember the year you purchased your hard hat, because I don't. Thankfully 3M has come out with a hard hat that lets you know when it is time to be replaced—and you can get one for FREE.
News
Chris August 20, 2012
0
0
I don't really like talking about jobsite injuries as they are often painful to read about and see, but it is not everyday we hear about a man surviving getting impaled with an iron bar that passes completely through his head.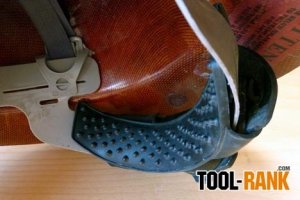 Reviews
Chris July 22, 2011
0
3
Is is fair or even possible to call a ToolRank Pick just from seeing a product demonstrated in a video? Well, that is pretty much the case for the Hat Grabber. The moment I saw it in action on video I knew it had the potential to be a real winner; all I had to do is test it out for myself to make sure it worked as well as advertised and confirm my suspicions. If you remember, the Hat Grabber is a small hardhat add-on that claims to better hold your hard hat on your head....
News
Chris May 12, 2011
1
0
Hard hats never seem to stay where they belong (on your head, not on the floor), and there has never really been a good way to help hold them on. The Japanese use chin straps with their hats, but we Americans are far too cool to allow ourselves to wear such a useful yet funny looking safety device. Thankfully the Hat Grabber is a solution Americans can use without compromising their fashion dignity. Best of all, the Hat Grabber is made in the USA. Go U.S.A. I just got my review sample in yesterday...
4 results - showing 1 - 4