5 results - showing 1 - 5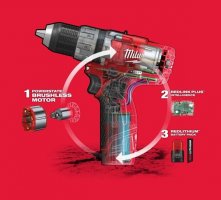 News
Chris August 07, 2012
0
1
Along with Milwaukee's announcement of new higher capacity batteries comes their announcement of new Brushless M12 cordless drivers. In my opinion Milwaukee has been the leader in 12-volt ultra compact tools, and they have shown this again by leading the pack with Brushless ultra compact drivers.
Hot Deals
Chris June 05, 2012
0
1
So you think one hammer is enough? Well, you are wrong. Just as large projects require large hammers, it is just as important to use small hammers for small projects. Not only can these smaller hammers fit into tighter spaces, but their small size offers more precise control. For a limited time GarrettWade is selling four small shop hammers that consist of a square head tack hammer, a round face solid brass hammer, a mini-ball peen hammer, and a tiny detail hammer, for the low price of only $16.60 ($4.15 each). These could make great Fathers Day...
News
Chris September 19, 2011
0
0
Wilton has introduced a new sledge hammer named BASH that they claim has a handle that is unbreakable. Now I have a hard time thinking that anything is truly unbreakable, and I believe the actual warranty for the BASH will state that the handle is unbreakable under normal conditions, but the fact that they back up their tool's handle with a $1000 guarantee for 2 years, thus putting their money where their mouth is, should add a bit of confidence to anyone purchasing the tool. What makes the BASH handle so much better than...
News
Chris April 07, 2011
0
0
When Black & Decker merged with Stanley we knew there would be some changes, but we had no idea Stanley, which is known for their hand tools, would be all but replaced by first Bostitch, and now DeWalt. But in fact the news is true; the DeWalt name will soon be found on a number of hand tools. DeWalt and hand tools just seems odd to me, but I am sure B&D has a plan. I guess it would help DeWalt if their yellow tools out numbered the other tools in one's tool bag; after all,...
News
Chris March 17, 2011
0
1
It is no surprise that many, if not most of the tools sold in stores today are knockoffs that are made in China. But it might surprise you to learn that for just a few dollars more you can get the originals that all of these cheap tools are copying. Original Estwing 16oz Hammer - $20 (made in USA) - Amazon ($27)Name brand Chinese copy - $17 Original Shark Corp. 10-inch Prybar - $17 (made in Japan) - AmazonName brand Chinese copy - $15 Spring Tools Hammer-less Nailsets - $10...
5 results - showing 1 - 5