2 results - showing 1 - 2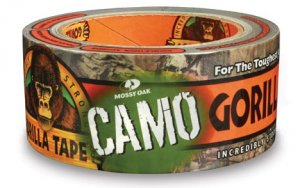 News
Chris   October 18, 2011  
0
0
We often find ourselves using duct tape outdoors to repair camping equipment and other outdoor gear, so doesn't it just make sense for Gorilla Tape – who boasts about being able to withstand harsh UV rays, cold winters, etc. – to offer their tape in a camouflage variety? Well, that it just what Gorilla did, and it looks like they did it right. If you have ever looked at a hunting supply catalog, you have probably noticed that just about everything they sell is covered in a camo pattern by Mossy Oak, and there...
News
Chris   September 21, 2011  
0
0
What is a good way to make sure we write about your product? Well, sending out a fully functional tool belt made out of Gorilla Glue brand Gorilla Tape sure helps. To be honest, I am a huge fan of Gorilla wood glue and choose it over other brands whenever I can. I like the fact that it is a little thicker and does not run, and it holds strong as would be expected. That being said, I have not used most of the other Gorilla Glue products, such as their epoxies or or tapes. Making...
2 results - showing 1 - 2