7 results - showing 1 - 7  
Tool Blog
Chris   December 05, 2013  
1
0
People thinking they can use Gorilla Glue (the original polyurethane glue) for every application might want to think twice. Matthias Wandel from Woodgears.ca put the glue to the test and found out what its strengths and weaknesses are.
Reviews
Chris   December 10, 2012  
1
0
Gorilla Glue recently came out with a new single use tube packaging for their original polyurethane Gorilla Glue formula. The idea is that a person that rarely needs the glue can open up a fresh tube for each project; or stash away a tube in a tool box, glove box, tackle box, etc box when a repair calls. We already know the Gorilla Glue polyurethane formula works, but will the new tubes keep the glue fresh?
News
Chris   October 31, 2012  
0
1
Gorilla Glue Co. makes a few products that I really like and one of those products is the Original Gorilla Polyurethane Glue. But you can't use their glue if you don't have any with you, and who knows when you might need to repair something on the go. To help solve this, Gorilla Glue is introducing Gorilla Glue Single Use packs.
Reviews
Chris   March 11, 2012  
0
0
Rockler must have a great team of product researchers in their employment because every year they come out with a few great products that either fill a void, solve a problem, or improve upon a design. This year one of their products is the silicone glue brush. Some of you guys wanted to know how well it worked, and Rockler was kind enough to send me one, so I put it to the test.
News
Chris   January 30, 2012  
1
2
I always roll with a bottle of Gorilla Glue in my tool box, as one never knows when he/she might need to glue something up. But reaching for that glue bottle only to find out that it has cured in the bottle, can be a real problem. The thing about Gorilla Glue is that it reacts and cures using water, and evidently, even the moisture in the atmosphere is enough to start the curing process. Knowing how unhappy dried up glue makes us, Gorilla Glue set out to fix the problem.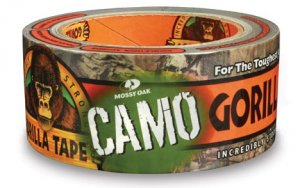 News
Chris   October 18, 2011  
0
0
We often find ourselves using duct tape outdoors to repair camping equipment and other outdoor gear, so doesn't it just make sense for Gorilla Tape – who boasts about being able to withstand harsh UV rays, cold winters, etc. – to offer their tape in a camouflage variety? Well, that it just what Gorilla did, and it looks like they did it right. If you have ever looked at a hunting supply catalog, you have probably noticed that just about everything they sell is covered in a camo pattern by Mossy Oak, and there...
News
Chris   September 21, 2011  
0
0
What is a good way to make sure we write about your product? Well, sending out a fully functional tool belt made out of Gorilla Glue brand Gorilla Tape sure helps. To be honest, I am a huge fan of Gorilla wood glue and choose it over other brands whenever I can. I like the fact that it is a little thicker and does not run, and it holds strong as would be expected. That being said, I have not used most of the other Gorilla Glue products, such as their epoxies or or tapes. Making...
7 results - showing 1 - 7