10 results - showing 1 - 10  
Tool Blog
Chris   September 23, 2019  
0
5
We live in busy times as it is so when I finally have time to work on a project, whether it is woodworking or just fixing stuff around the house, the last thing I want is to have to wait for the glue to dry before I can move onto the next step. So when Starbond reached out to me and asked if I wanted to try out their fast curing CA glues, I was more than happy to give them a try.
Tool Blog
Chris   December 05, 2013  
1
0
People thinking they can use Gorilla Glue (the original polyurethane glue) for every application might want to think twice. Matthias Wandel from Woodgears.ca put the glue to the test and found out what its strengths and weaknesses are.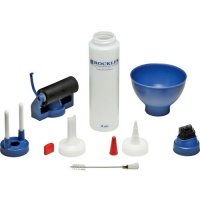 News
Chris   August 06, 2013  
0
8
If you do a lot of work with wood, you might find that your glue bottle gets used just as much as your other tools. So in an effort to make the task of gluing as easy as possible for every application, Rockler has come out with a new Glue Bottle Applicator Kit. Rockler even found a way to make a silicone brush into an attachment.
Reviews
Chris   January 16, 2013  
1
0
Last year I reviewed the first and original silicone glue brush from Rockler and was impressed right away by how well it worked. And while I liked the brush and recommended it, I did have a problem with it not being able to fit inside a glue bottle. Rockler's solution? The Mini Silicone Glue Brush.
Reviews
Chris   December 10, 2012  
1
0
Gorilla Glue recently came out with a new single use tube packaging for their original polyurethane Gorilla Glue formula. The idea is that a person that rarely needs the glue can open up a fresh tube for each project; or stash away a tube in a tool box, glove box, tackle box, etc box when a repair calls. We already know the Gorilla Glue polyurethane formula works, but will the new tubes keep the glue fresh?
News
Chris   October 31, 2012  
0
1
Gorilla Glue Co. makes a few products that I really like and one of those products is the Original Gorilla Polyurethane Glue. But you can't use their glue if you don't have any with you, and who knows when you might need to repair something on the go. To help solve this, Gorilla Glue is introducing Gorilla Glue Single Use packs.
Reviews
Chris   March 11, 2012  
0
0
Rockler must have a great team of product researchers in their employment because every year they come out with a few great products that either fill a void, solve a problem, or improve upon a design. This year one of their products is the silicone glue brush. Some of you guys wanted to know how well it worked, and Rockler was kind enough to send me one, so I put it to the test.
News
Chris   February 09, 2012  
0
0
Instead of buying a large quantity of regular glue brushes that you always end up throwing away, Rockler wants you to buy their new Silicone Glue Brush (45624), keep it, and reuse it over and over again. Their Silicone Glue Brush looks like a mini version of a silicone brush you might find in a kitchen, and if the technology works so well in the kitchen, it might be worth giving it a try in the shop.
News
Chris   January 30, 2012  
1
2
I always roll with a bottle of Gorilla Glue in my tool box, as one never knows when he/she might need to glue something up. But reaching for that glue bottle only to find out that it has cured in the bottle, can be a real problem. The thing about Gorilla Glue is that it reacts and cures using water, and evidently, even the moisture in the atmosphere is enough to start the curing process. Knowing how unhappy dried up glue makes us, Gorilla Glue set out to fix the problem.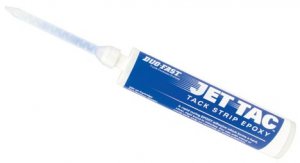 Manufacturer News
Chris   December 13, 2010  
0
0
VERNON HILLS, IL (October 2010) – Duo-Fast® Floor Fastening Systems (www.duo-fast.com), a leader in carpet and flooring installation tools for more than 40 years, is introducing Jet-Tac™ Tack Strip Epoxy, a quick-set epoxy that is ideal for tack strip installation on concrete or wood. "We've done our homework and listened to what carpet installers are looking for in fastening tack strip to concrete," said Rita Bockrath, Marketing Manager for Duo-Fast Floor Fastening Systems. "Jet-Tac™ has a number of features never before seen in this industry that are sure to save carpet installers time and...
10 results - showing 1 - 10