3 results - showing 1 - 3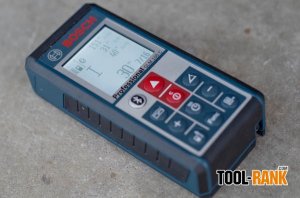 Reviews
Chris   July 11, 2014  
0
20
The GLM 100 C Professional is Bosch's best laser measurer yet. It features a large backlit multi-line display, 50 measurement memory history, and can measure in more ways than you will probably ever need. But the reason I asked Bosch to send the GLM 100 C to me to review was because it has one more special feature—Bluetooth.
News
Chris   October 30, 2013  
1
1
Bosch is taking laser measuring to the next level with the introduction of their GLM 100 C Laser Distance Measure, available next month. Not only is it packed with measuring and storage features, but it can sync with iOS and Anrdoid devices to extend its functionality.
Manufacturer News
Chris   March 15, 2013  
0
19
Literally, if you took all of the products Bosch Germany announced the other day and multiplied them by X, they would surly weigh a ton or more. There are so many tools I don't know where to start—how do tools that talk to your smart phone sound?
3 results - showing 1 - 3