12 results - showing 11 - 12
Reviews
Chris December 16, 2010
0
0
Up for review today is the Ratcheting ReadyWrench that was provided without cost by Black & Decker. The Ratcheting ReadyWrench is a dog-bone style wrench that features selectable sockets on both ends of the tool. Each end consists of four universal sockets that are capable of fitting both Metric and SAE nuts and bolts. This feature gives the wrench a total of 16 sockets in one tool. The main selling point of the Ratcheting ReadyWrench is the 16-in-1 design coupled with a new ratcheting system. Offering a total of 16 wrenches in one small...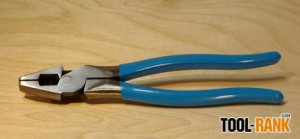 Reviews
Chris November 12, 2010
0
0
A while back Channellock sent over a pair of their 369 lineman pliers and I had the pleasure of putting this tool to the test. Now I am not an electrician, which the tool was originally designed for, but who couldn't use a good set of pliers to help out with life's daily problems. The pivoting action on the pliers was really smooth and a tell tail sign that these are quality made. Channellock recently updated these pliers by reducing the size of the pivot. This change allowed them to move the point closer...
12 results - showing 11 - 12