3 results - showing 1 - 3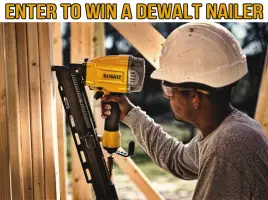 Tool-Rank
Chris   September 01, 2016  
0
1
Contest Information
Contest Ends
September 30, 2016
Tool-Rank is happy to be able to team up with DeWalt to giveaway away a brand new DeWalt Pneumatic Nailer. Best of all, the winner gets to choose which nailer they will receive. If you do a lot of general construction, the DeWalt 21° Plastic Collated Framing Nailer (DWF83PL) might be right for you. If you see a new roofing job in your future, the DeWalt Coil Roofing Nailer (DW45RN) might be your choice. Both Nailers are being provided by DeWalt, so it would be nice if you sent them a tweet or comment letting them know that you...
Manufacturer News
Chris   January 27, 2014  
0
1
DeWalt has always received high reviews for their cordless gas-free trim nailers, and now it seems they are ready to utilize their technology in a more powerful cordless framing nailer. The DeWalt DCN692 will be their first dual-speed gas-free 20V Max Cordless Framing Nailer.
News
Chris   May 06, 2011  
0
0
Why buy individually when you need bulk supplies? Duo-Fast agrees, and is now selling their cordless framing fuel cells in convenient 12-cell bulk packs. Now it is easy to head to the store and make just a single purchase instead of twelve. "The DUO-FAST fuel cells are based on proven ITW technology that has been around for 25 years," said Jacek Romanski, National Marketing Manager for DUO-FAST Construction. "We are providing contractors with the convenience of buying in bulk or one at a time if that's all they need." Even if...
3 results - showing 1 - 3