17 results - showing 1 - 10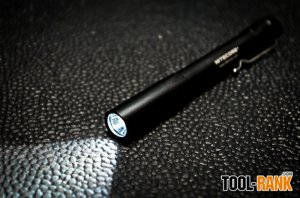 Reviews
Chris June 24, 2016
0
7
If you have been reading Tool-Rank for any period of time you might be aware that I am a fan of keeping a flashlight in my tool bag with my tools. Working on a jobsite, I never know when I am going to need to light up a room or dark corner. After using the Nitecore MT06 Penlight for a bit, I decided to apply that same logic to my everyday life. Let me tell you why the Nitecore MT06 has become my first EDC flashlight.
Reviews
Chris July 10, 2015
0
6
If you are the type of person that likes to carry around a pocketknife and a flashlight, you might be interested in the Coast LK375, a new tool that combines both. Coast is known for their knives and their flashlights, but were they able to combine the two to make a product that does both jobs well? Read on, to find out my thought.
Tool Blog
Chris April 29, 2014
0
1
I am already a fan of Coast because they make great LED flashlights and knives at reasonable prices. So what can they do to be even better? How about making their most popular flashlight designs even stronger by using polymer.
Reviews
Chris August 28, 2013
1
10
When Coast contacted me and said they were sending over their new HL27 LED Headlamp, I couldn't help but remember that I had just done a video of their HL7 LED Headlamp; what could be so different? It turns out the HL27 has a number of improvements that might make it worth an upgrade.
News
Chris January 11, 2013
0
4
There is no question about it, Coast makes some really great LED flashlights in a number of different product lines to meet the needs of your average user all the way up to those whose lives depend on them. There was one thing missing though, rechargeable flashlight options; but it looks like that will soon be covered as well.
Tool Blog
Chris November 09, 2012
6
36
Let us pretend that you have just survived a natural disaster but you can no longer use your house the way you used it just a few days before. The power is out, you have no running water, and you have no heating. This sounds a lot like what has happened, and is still happening, on the East Coast. For these reasons and more, it is a good idea to have a small tool kit that you can use to help you survive until you can rebuild.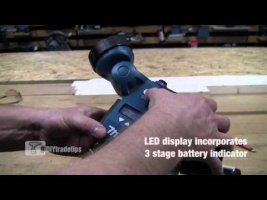 News
Chris September 27, 2012
1
0
Flashlights are always handy to have around and the music from a radio seems to make the day go by faster, so why not combine the two into one compact package? Besides, you can't show off your slick dance moves in the dark.
News
Chris August 29, 2012
0
3
The Makita LXT 18V Cordless line continues to grow with some surprising additions to their website. The new tools include a next generation LXT hammer drill, next gen LED work light that can handle more jobsite abuse, and a surprising new cordless random orbital sander.
News
Chris July 18, 2012
0
1
Mac Tools knows a thing or two about what automotive workers need to help them get the job done. One of those things they need is light, but working in a brightly lit shop is not always an option. To get the light where it needs to be even when you are away from the shop, Mac Tools has come out with a new cordless magnetic rubberized LED worklight.
Manufacturer News
Chris May 31, 2012
0
0
Oh great another cordless LED work light. And when I say oh great, I mean it in the good way. Oh Great!!! Having enough light while working is a must, so I am always happy to see new and better lights coming out. The New 18-volt Makita LXLM03 12 LED work light (flashlight) is looking like a nice step in the right direction.
17 results - showing 1 - 10