2 results - showing 1 - 2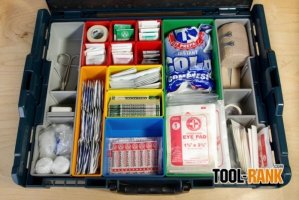 Tool Blog
Chris October 22, 2012
1
10
One thing you should always have, whether you are prepping for a natural disaster or not, is a good first aid kit. In the first part of my 72-hour emergency kit build I make use of the dividers that are included in the model L-BOXX1A, which is part of the Bosch Click & Go modular storage system.
News
Chris March 23, 2011
0
0
OK not really, but they are offering a limited edition Festool first aid kit. Every contractor should carry a first aid kit and it also happens to be the law, so you might as well be medically prepared in style. The kit contains all of the common supplies required for emergency first aid, and has been certified to be ANSI/OSHA compliant. The important stuff is all housed in a Systainer 1, complete with red and white first aid emblem latches; too bad Festool didn't use the new T-Loc Systainer. Contents listed below. One question...
2 results - showing 1 - 2