3 results - showing 1 - 3
News
Chris October 11, 2011
0
0
Senco took cordless nailers in a new direction when they introduced their Fusion line. Instead of using fuel cells or fly-wheels, Senco developed a recharging close-looped compressed nitrogen system that acts kind of like a mini air compressor built right into the gun. Senco initially released 15-gauge and 18-gauge versions of the nailer, and now they are expanding to include a 16-gauge straight nailer (F-16S), and a 16-gauge angled nailer F-16A. "We've had tremendous success converting pneumatic, battery, and gas-powered customers to the F-15 and the F-18," says Dave Moore, Senco's director of Fusion technology....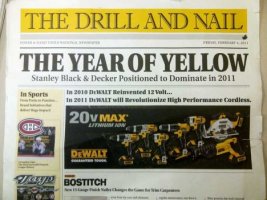 News
Chris March 18, 2011
0
0
ToolsInAction has the scoop on what is possibly the new 20V Max lithium-ion line from DeWalt. They somehow got a hold of a flyer that pictures what appears to be a new line that will be released later this year. I believe DeWalt announced their 12V line back in June of last year, so if they are following the same timeline, we have a few more months to wait. The flyer shows 3 drills, 2 impacts, a reciprocating saw, and a circular saw. The new line looks a lot like their 12V line, and uses a...
Reviews
Chris July 29, 2009
0
8
Back in May, I wrote about Campbell Hausfeld's new line of Pneumatic Nailers. Their goal was to produce a nail gun for your average Joe that could give results of a seasoned pro. To do this, they have added some interesting features to their model CHN70699 finish nailer which are not found in other nail guns. These features include: a built in laser, warning lights/sounds and even a stud finder. The CHN70699 can fire nails ranging in size from 1" up to 2-1/2" and uses standard angled 15 gauge finish nails. The operating pressure range is between 70 and...
3 results - showing 1 - 3