3 results - showing 1 - 3  
Weekend Links
Chris   March 23, 2012  
1
0
Fastcap Square 'n' Tape – Eat Your Heart Out Swiss Army Knife - HomeFixated Chances are that if you are using a tape measure you probably are using a square as well. HomeFixated reviews a product that combines the two into one. Sound like it could be a time saver; though it probably wont fit in your tape measure pocket. The Original All-Terrain Table Saw - Tools Of The Trade Before manufacturers came out with table saws with built it wheeled stands, or even portable table saws, people that were...
News
Chris   March 16, 2012  
2
0
Getting better organized is something that many of us battle with. One of the ways the professional shops do it is by having custom drawer liners made up. These liners are usually made out of some type of foam and they are custom cut using CNC machines to perfectly match the outline of your tools. Getting custom liners made is not something the average person is going to do, but FastCap has a product that makes it simple to get a custom fit at home.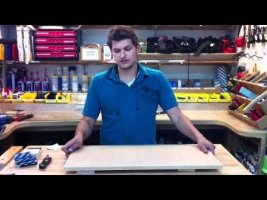 News
Chris   July 13, 2011  
1
0
Even though I have never used them, I still believe Rockler's Bench Cookies are one of the best tool inventions for woodworkers and finish carpenters. I always assumed I would pick up a set, but thus far I have not needed them; but now thanks to Fastcap, I might not ever own a set. Why? Because Fastcap's new TracPad lets you make your very own router cookies brownies. I always thought the Rockler cookies were a tool that could easily be DIY'd with some pieces of a router mat, a few blocks or circles...
3 results - showing 1 - 3