13 results - showing 1 - 10  
Tool Blog
Chris   November 03, 2016  
1
1
Cutting out a square hole typically requires that you make four separate cuts—one for each side. What if I told you that there is a new tool called the Quadsaw that can cut all four sides at once, and the tool is powered by a regular cordless drill? Imagine how much time you could save.
Tool Blog
Chris   October 20, 2014  
1
1
IDEAL has come out with a new feature for their clamp meters that is really quite clever. Their exclusive TightSight feature is a second display for the clamp meter that is built into the bottom of the tool. This innovation makes it possible to view the readings from the meter when limited space makes it difficult to read the main display.
Tool Blog
Chris   June 24, 2014  
0
2
Just in case you still thought of Milwaukee as only a power tool company, they are continuing to expand in their Test & Measurement line of tools with the addition of two new Electrical Testers. Their goal, they say, was to come out with a simplistic Voltage/Continuity tester with a digital readout.
Tool Blog
Chris   April 17, 2014  
1
1
Klein Tools is expanding their insulated hand tools line with new electrician's tools with "slimmer, sleeker profiles", which have been certified by VDE in Germany.  These "made in the USA" tools feature a three-part insulation and have been tested to 10,000V and rated at 1,000V.
Tool Blog
Chris   March 31, 2014  
0
1
Oftentimes it is a good idea to have a specific tool for each task, but then again, sometimes it is nice to have tools that can do more than just one thing. With the promise of being able to handle the bulk of your wire prep needs, I think Klein's new J2068C All-Purpose Pliers fall into the latter category.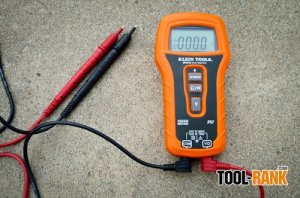 Reviews
Chris   December 18, 2013  
1
6
If you are tired of having to baby your multimeter with special padded cases, cringing with each step up on your ladder as your precious meter leaves the safety of the ground, worrying that it could slip to its certain death? Then Klein's new MM500 Auto-Ranging tough meter might be just what you need.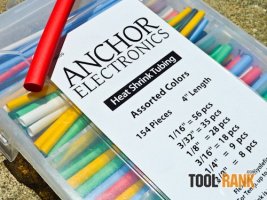 Tool Blog
Chris   July 16, 2013  
1
1
A few years ago I started picking out tools that I liked and gave them some extra recognition, these are known as Tool-Rank Picks. The list of Tool-Rank Picks is rather short and up until now contained only tools, but today I break tradition and add a consumable to the list; Anchor Electronics Heat Shrink Tubing.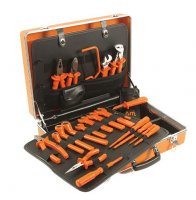 News
Chris   June 03, 2013  
0
1
CH Hanson has announced that they are teaming up with ITL (Insulated Tools Limited) of Great Britain, to bring a full line of their 1,000-volt rated fully insulated hand tools to North America. The range of professional tools will include: screwdrivers, wrenches, pliers, cutters, nippers, sockets and more.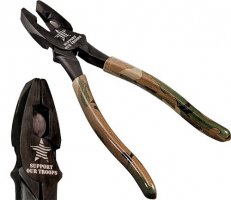 News
Chris   May 24, 2013  
0
1
Klein has announced that in addition to donating $25,000 in 2013 to Operation Homefront, an organization that helps our Military and their families, they are also coming out with a new limited edition Camouflaged 2000 Series High-Leverage Side-Cutting Pliers.
Tool-Rank
Chris   May 01, 2013  
1
1
This month Tool-Rank has teamed up with Weller to give away one of their newest LED soldering irons. If you have ever done any soldering you may have noticed that if you do not have light in exactly the right place, it can be hard to see what you are doing. Even if you have light right above your work space, your soldering iron can cast shadows where it is most inconvenient. Weller's new LED soldering iron features three built in L.E.D's that are spaced around the soldering iron to shine light evenly towards the tip of the iron...
13 results - showing 1 - 10