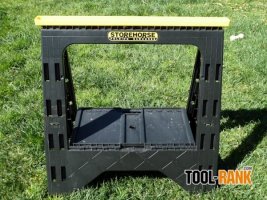 Reviews
Chris February 24, 2012
0
5
This might be hard for some of you to believe, but one of my most used tools on the jobsite is actually a pair of sawhorses. Whenever I need to cut a counter top, a wall panel or the occasional door I need a pair of sawhorses. Since I move around a lot on the jobsite, the lighter the horse the better, so plastic horses are a must. I have used a bunch of different saw horse brands over the years, but I have never been happy with any of them, that is, until I purchased a pair by...
Reviews
Chris February 15, 2012
0
5
When it comes to drills and other popular power tools, it can be hard to rank one higher than another because they are all so similar these days. The race to offer the most power has plateaued, and now manufactures have to win over our hearts with other features. Does the new Bosch HDH181 Cordless Hammer Drill have what it takes to win you over? We put it to the test.
Reviews
Chris September 29, 2011
0
0
The days are getting shorter, the nights are getting longer, and we are entering what I like to call "flashlight season". Soon you will be arriving at work, or leaving, in the dark. Because of the dangers of the jobsite, one thing you don't want to do is navigate in the dark. The reasons to keep a flashlight handy far outweigh the excuses to not have one, so it would seem to be perfect timing for a flashlight review, and I have one for you thanks Coast. What Coast sent over was their A15 Professional LED...
Reviews
Chris September 08, 2011
0
1
Bosch sent me out their Cordless PS50 Multi-X a few months back, as well as their Corded MX25E Multi-X. Since I got them both around the same time, and have used them both on the jobsite, I figured it would be best to do a single article that reviews and compares both models together. Oddly, Bosch's introduction into the oscillation tool market was done with the 10.8/12-volt cordless PS50, while other manufacturers and even their own tool subsidiary, Dremel, all introduced corded models. But even though the PS50 is a few years old, it is still...
Reviews
Chris September 01, 2011
0
0
I have never been a fan of folding utility knives. They always felts cheap, the mechanism that holds the blade in place seemed dangerous, and they were darn right uncomfortable to use. Their handiness was far outweighed by their design flaws. With all of the flaws in the Utility Folder class, could DeWalt's introduction of the DWHT10035 Folding Retractable Utility Knife do any better than the folders on the market today? DeWalt sent over the knife so I could find.
Reviews
Chris August 02, 2011
0
0
I was a bit skeptical when I first heard that DeWalt would be making hand tools. I figured the tools would just be re-branded Stanley tools, like the Bostitch hand tools were. How would a bunch of re-branded hand tools be interesting news for you to read? It wouldn't, but thankfully for all of us, the new DeWalt tools are not just a simple logo change. The DeWalt line of hand tools look like they were built upon Stanley models, but also improved upon. As a way to show the skeptics among us what they really...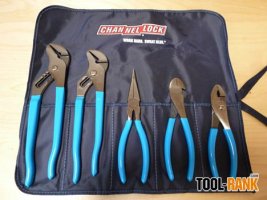 Reviews
Chris July 27, 2011
0
0
Channellock has put together a great general purpose tool roll set, and in my opinion it is the best tool set they offer. The Tool Roll No. 3 Gift Set includes the: 430 tongue & groove plier, 420 tongue & groove plier, 337 cutting plier, 3017 long nose plier, 526 slip joint plier. These 5 tools are a great addition to a DIYer's small collection of tools, and can be used for many of the most common DIY tasks. This is not some cheap tool set either, and should last a lifetime. Channellock sent me this...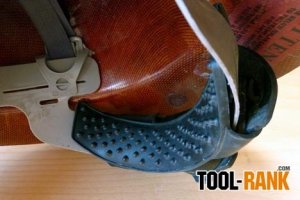 Reviews
Chris July 22, 2011
0
3
Is is fair or even possible to call a ToolRank Pick just from seeing a product demonstrated in a video? Well, that is pretty much the case for the Hat Grabber. The moment I saw it in action on video I knew it had the potential to be a real winner; all I had to do is test it out for myself to make sure it worked as well as advertised and confirm my suspicions. If you remember, the Hat Grabber is a small hardhat add-on that claims to better hold your hard hat on your head....
Reviews
Chris June 27, 2011
0
0
You know I love lasers, they automatically make everything cooler, and the Johnson 40-6616 tiling and flooring laser square is no exception. This cool little squaring laser projects two lines across the floor that are 90-degrees apart, thus making it ideal for the flooring trades. But you don't have to be one of the flooring trades to get good use out of this tool; the 40-6616 works great for anyone needing to make squaring lines on the floor. Though the 40-6616 uses new technology like lasers, the tool itself is very simple in design...
Reviews
Chris June 12, 2011
0
0
Tools are cool and lasers are cool, so we can pretty much assume that tools with lasers on them are double cool. So when Johnson Level sent over their 40-0921 self-leveling cross-line laser, even though I have used other cross-line lasers, I knew I would have fun testing it out. So after getting the kit out of the box, the obvious next step was to take it to the jobsite and put it to work. The Johnson 40-0921 comes in at a price of around $100 which puts it in the price range and...