Reviews
Chris January 16, 2013
1
0
Last year I reviewed the first and original silicone glue brush from Rockler and was impressed right away by how well it worked. And while I liked the brush and recommended it, I did have a problem with it not being able to fit inside a glue bottle. Rockler's solution? The Mini Silicone Glue Brush.
Reviews
Chris December 10, 2012
1
0
Gorilla Glue recently came out with a new single use tube packaging for their original polyurethane Gorilla Glue formula. The idea is that a person that rarely needs the glue can open up a fresh tube for each project; or stash away a tube in a tool box, glove box, tackle box, etc box when a repair calls. We already know the Gorilla Glue polyurethane formula works, but will the new tubes keep the glue fresh?
Reviews
Chris September 28, 2012
0
10
When you are a tradesman there is balancing act that you are always faced with. There are only so many tools you can take with you, so you have to choose what stays and what goes, and this is why I like tools with more than one function. This is also why a company like Swanson makes a tool like the Savage SVK666 Folding Jab Saw/Utility knife. It takes two tools that are commonly used when working with drywall and combines them. But how well did Swanson do at pairing these two tools up? They sent us one so...
Reviews
Gary July 24, 2012
0
8
Can an 18 gauge nail gun with a name unfamiliar to most carpenters compare to the guns made by the big name tool makers?—Well, this carpenter emphatically says Yes! In fact the Uffy finish nailer I recently used surpasses my expectations in nail guns, and over the years I've used many brands.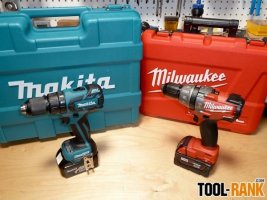 Reviews
Chris June 26, 2012
0
25
Brushless motors are the latest innovation to hit cordless power tools. In fact it is so new that there are few cordless tools that take advantage of the technology. In this article I am going to review two brushless drills that are available now, the 2604-22 Milwaukee Brushless Hammer Drill and the LXPH05 Makita Brushless Hammer Drill. Just for a stat comparison, I also threw in last years HDH181 Bosch Hammer Drill which is not brushless.
Reviews
Chris May 24, 2012
1
4
People are always on the lookout for tools that allow themselves to work faster, heck, this is the whole reason electric drill/drivers were created. But there is such a thing as having too much power, and you end up putting precision at risk. The Swift Driver aims to provide people with a faster way to drive screws, yet still allow the user the control required for certain tasks.
Reviews
Chris April 27, 2012
1
9
All headlamps are not created equal and to get a headlamp that can handle the demands of a jobsite, and last, you need something more than your average hikers light. I have used a few headlamps in the past that cost around $20, but none of them could handle the jobsite abuse I threw at them. Today I review the Pixa 3 headlamp that Petzl sent me, a light that has been built for contractors. Will it hold up?
Reviews
Gary April 17, 2012
0
4
My wife loves her garden; so when she happened to suggest that this year she would like to try raised garden beds, and Craftsman happened to request a review of their new digging shovel, I said; "let's get started." A serious digging project requires a serious digging tool, and the Craftsman Long Handle Digging shovel is as serious as they come.
Reviews
Chris April 02, 2012
0
20
I think I have said this before, but when I saw the DeWalt ToughSystem and the features it offered, it was love at first sight. I was already in the market for a modular type storage system/tool box and had been scoping the offerings from the other brands, but the ToughSystem had a complete solution that best suited my needs.
Reviews
Chris March 11, 2012
0
0
Rockler must have a great team of product researchers in their employment because every year they come out with a few great products that either fill a void, solve a problem, or improve upon a design. This year one of their products is the silicone glue brush. Some of you guys wanted to know how well it worked, and Rockler was kind enough to send me one, so I put it to the test.