4 results - showing 1 - 4  
Reviews
Chris   April 02, 2012  
0
20
I think I have said this before, but when I saw the DeWalt ToughSystem and the features it offered, it was love at first sight. I was already in the market for a modular type storage system/tool box and had been scoping the offerings from the other brands, but the ToughSystem had a complete solution that best suited my needs.
News
Chris   January 27, 2012  
0
0
When I first saw the DeWalt ToughtSystem I knew right away that it was something that I wanted to try out on the job. I had already been looking for a better way to store and transport my tools on the job, and a modular system was high on the list. The thing that really hooked me on the ToughSystem was the way the boxes attach to the L-Cart Carrier, and that they can each be removed individuality. There was one problem with the boxes though, they were hard to find. Amazon was one...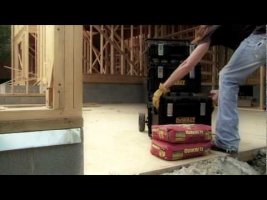 Editorial
Chris   October 04, 2011  
1
0
Where oh where could it be? The DeWalt ToughSystem was one of the products that really caught my eye back when DeWalt made their big product announcement in June. The system might not have anything new in terms of stackability compared to the Festool Systainers, or the Sortimo L-Boxx, but they had other features that, in my opinion, really put the ToughSystem boxes up a level. The other brands, as well as the DW ToughSystem, feature a lock-together stacking feature, but DeWalt was the first to engineer a transport system that did more then just carry boxes....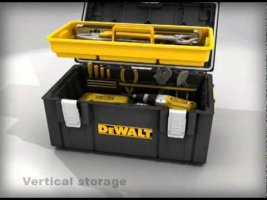 News
Chris   June 06, 2011  
1
0
I have been battling with the idea of purchasing a few Systainers so that I can use them with a hand truck to get my tools on and off the jobsite easier for a few years now, but the pricing always kept me away. Then out came the L-Boxx from Sortimo, and it popped into my mind as a possible solution. The L-Boxx then became the front runner when Bosch made them more readily available here in the States. However, now it looks like DeWalt's Tough System is the ideal storage/transport system for my needs. The Tough...
4 results - showing 1 - 4