Tool Blog
Chris   November 28, 2018  
0
2
Stuart over at ToolGuyd posted an article about a new dust cyclone attachment (199553-5) for Makita cordless vacuums that separates the dust before it has a chance to clog the dust filter. The nifty little accessory attaches inline between the extension "wand" and the handheld vacuum unit to act as the first stage of fine dust collection before the main bag. There is one problem though; the Makita Dust Cyclone is currently priced at $55 on Amazon, yet looks nearly identical to one that can be found on eBay for as little as $12.
Tool Blog
Chris   May 11, 2015  
1
1
The RotoZip is great at quickly cutting into drywall to make way for wall outlets, lights, plumbing and more. Another thing it is good at is coating everything nearby in a fine powdered drywall mess; but now it seems the new Dust Vault attachment will eliminate most dust, and it doesn't even require an external vacuum.
Tool Blog
Chris   January 14, 2014  
0
2
As more people are concerned about dust levels on the jobsite or maybe just interested in keeping their customers' homes clean, Bosch has announced new 9-gallon (VAC090S and VAC090A) and 14-gallon (VAC140S and VAC140A) dust extractors with semi-automatic or automatic filter cleaning options. Each vac is also compatible with Bosch's Click & Go System, making it easy to keep your tools, accessories and vac together.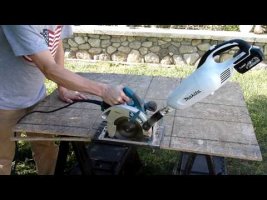 Tool Blog
Chris   April 29, 2013  
1
0
A year or two ago I was given a Makita BCL180ZW 18-volt cordless vacuum cleaner, which I normally use around the house for small clean-ups. The other day I glanced over at it and a thought popped into my head—"I wonder if that will fit onto my circular saw?" Only one way to find out.
Manufacturer News
Chris   March 15, 2013  
0
19
Literally, if you took all of the products Bosch Germany announced the other day and multiplied them by X, they would surly weigh a ton or more. There are so many tools I don't know where to start—how do tools that talk to your smart phone sound?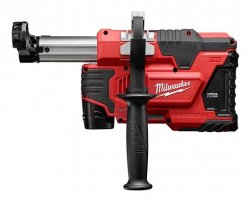 News
Chris   February 07, 2013  
1
1
The Milwaukee M12 HammerVac is a dust extractor that collects the dust that your rotary hammer makes while drilling, but unlike other cordless rotary hammer vacuums, the HammerVac works on other brand's drills too.
News
Chris   February 01, 2013  
4
1
Makita has been making a real effort to offer dust collection accessory options for many of their new tools, which is something I really like, but until now they have been without an actual dust extractor of their own. So what does Makita and their new Xtraxt Vac (VC4710) have to offer?
News
Chris   September 25, 2012  
2
1
How many of you have ever had the idea of building a dust collector from scratch? Mathias Wandel had this idea and decided to show us his progress on Youtube. A dust collector doesn't seem very complicated, but it turns out that there is a whole heck of a lot of engineering that goes into making one that works well. The hard part of building your own dust collector is coming up with a design that does a good job of filtering out dust but still has enough power and capacity to handle the debris that your tools throw...
News
Chris   September 21, 2012  
0
1
One thing I really hate is jobsite dust, especially concrete dust. It gets all over the finished woodwork and always finds a way into my lungs. So the way to combat dust is to use a vacuum or a dust extractor. But we need one small enough to fit in the truck with the rest of the tools, and Bosch has one in the new 3931B-SPB 6.6-gallon Wet/Dry Vacuum.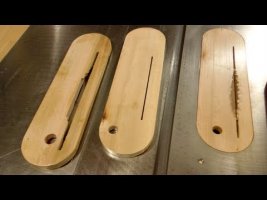 Weekend Links
Chris   June 02, 2012  
1
0
Dust Free Drilling with the Dust Bubble - Homefixated Need to drill a hole and leave no evidence behind? Check out this cool and weird product that will capture the dust into a bubble that you can then throw into the trash. A vacuum is probably more practical for a lot of drilling, but if you have a few holes, this bubble might save you. Load-N-Lock Lunch Bucket - ToolSkool When you go to work you need a manly lunch. The Load-N-Lock Lunch Bucket is big enough to hold your...