5 results - showing 1 - 5
Around The Web
Chris December 22, 2011
0
0
Contest Information
Contest Ends
January 01, 2012
Running cords and air hoses all over a roof is not only a pain, but they also create a bunch of potential tripping hazards. So when Duo-Fast announced the first ever cordless fuel roofing nailer back in 2010, you could see that is was going to be a popular tool. In the price range of $500, the Duo-Fast cordless roofing nailer is not in everyone's budget, but if you fill out a short survey, you will be entered for a chance to win one. The giveaway ends on January 1st, so if you are...
Manufacturer News
Chris May 24, 2011
0
0
It seems like more and more manufacturers are offering up longer warranties for their tools, and this is a move that I welcome. Duo-Fast is the latest to improve upon their warranty by giving their NEW 200-S and 200-C flooring staplers and nailers a 10-year warranty on all durable parts, and a 1-year warranty on parts that wear. Check the press release below for more details on the new warranties and the tools themselves.
News
Chris May 06, 2011
0
0
Why buy individually when you need bulk supplies? Duo-Fast agrees, and is now selling their cordless framing fuel cells in convenient 12-cell bulk packs. Now it is easy to head to the store and make just a single purchase instead of twelve. "The DUO-FAST fuel cells are based on proven ITW technology that has been around for 25 years," said Jacek Romanski, National Marketing Manager for DUO-FAST Construction. "We are providing contractors with the convenience of buying in bulk or one at a time if that's all they need." Even if...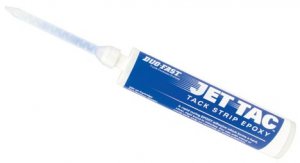 Manufacturer News
Chris December 13, 2010
0
0
VERNON HILLS, IL (October 2010) – Duo-Fast® Floor Fastening Systems (www.duo-fast.com), a leader in carpet and flooring installation tools for more than 40 years, is introducing Jet-Tac™ Tack Strip Epoxy, a quick-set epoxy that is ideal for tack strip installation on concrete or wood. "We've done our homework and listened to what carpet installers are looking for in fastening tack strip to concrete," said Rita Bockrath, Marketing Manager for Duo-Fast Floor Fastening Systems. "Jet-Tac™ has a number of features never before seen in this industry that are sure to save carpet installers time and...
News
Chris September 09, 2010
0
0
Today Duo-Fast held a virtual press conference where they gave us the scoop on their latest creation, the DFCR175C fuel powered cordless roofing nailer. This particular tool has been the number one request by end users. So Duo-Fast, doing as all smart companies do, is giving the people what they want.
5 results - showing 1 - 5