3 results - showing 1 - 3  
Tool Blog
Chris   March 09, 2015  
0
1
Is this the year of cordless brushless drywall screwdrivers or what? Not long after the other brands announce their models, Bosch hits us with their very own. So what sets the Bosch SGH182 Screwgun apart from the rest? At 3.5lbs with a 4.0Ah battery, it is the lightest of the bunch, but it might also be the most powerful.
Tool Blog
Chris   February 18, 2015  
1
2
DeWalt wants drywall carpenters to Get More Done, thanks to their new DCF620 20V Max Brushless Lithium Ion Drywall Screwgun with Extended Runtime battery packs. The combination, they say, is what professionals need to get the job done without the hassle of long extension cords.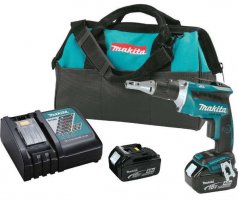 Tool Blog
Chris   January 05, 2015  
0
3
Makita has come out with a new 18V cordless, brushless drywall screwdriver (XSF03M) that is powered by their new 18V 4.0Ah batteries, which they say has the power and performance of a corded drywall screwdriver. The benefit, of course, is that there is no cord to get in the way.
3 results - showing 1 - 3