Hot Deals
Chris March 07, 2012
0
0
If you are in the market for some entry level power tools that can help with your DIY needs, a discounted Porter-Cable 18V combo kit might be just what you need. The combo kit includes a 1/2-inch drill with a two position gear box, an impact driver for all your fastening needs, a flashlight, two 18V lithium-ion batteries, a 30 minute charger, and a soft carrying bag. In some locations Lowe's is selling the PCL318IDC-2 3-tool combo kit for as low as $71.60. You can order it online and pick it up at your local store,...
News
Chris February 16, 2012
0
0
Your hammer drill still not small enough for you? Bosch just announced that they are coming out with the PS130 hammer drill for their 12V Max line. I don't know exactly who a 12V Max hammer drill is aimed towards, but with the popularity of ultra compact tools, I guess it makes sense.
Reviews
Chris February 15, 2012
0
5
When it comes to drills and other popular power tools, it can be hard to rank one higher than another because they are all so similar these days. The race to offer the most power has plateaued, and now manufactures have to win over our hearts with other features. Does the new Bosch HDH181 Cordless Hammer Drill have what it takes to win you over? We put it to the test.
News
Chris September 23, 2011
1
0
For many Festool owners it is either Festool tools or nothing, and in a time when just about every tool user has an impact driver, these same Festool fans have been making excuses as to why they don't need an impact driver. I have heard excuses like, "I don't need an impact because my Festool drill has more than enough power". Really? More torque than an impact driver? Sure their reasoning is a joke, but we have to admire their loyalty, even though it is annoying. But soon all those Festool owners that don't need impact...
News
Chris June 16, 2011
0
0
One of the biggest drawbacks of 18-volt cordless drills is their large size, and this is probably the main reason why the smaller ultra compact lines have been growing so fast over these last few years. Well it appears that Bosch has taken these 'small' ideas to their 18-volt line and are offering new smaller drills across the entire 18V line. Even the drills you would expect to be big, like hammer drills, have also been slimmed down; but this also means the compact drills are even smaller. Bosch claims the new Brute Tough...
Manufacturer News
Chris June 02, 2011
0
0
I predicted DeWalt would be announcing their 20 Volt line of tools in June, and here we are, I was right, and I am still not a fan of calling 18V tools 20V Max, but this is a battle I cannot win. I always say that if you are going to buy a cordless tool, you are really buying into the whole manufacturers cordless system. Once you own one tool from a manufacturer you are more likely to stick with the same battery and charger, so you buy other tools. So when a manufacturers...
News
Chris April 11, 2011
1
1
Ultra compact drills are on everyone's wish list and Festool now has their fans covered with their very own 10.8-volt. Their new CXS drill has a special design that is said to offer better ergonomics and more comfort. Most other ultra compact drills use a battery-in-handle design because there is really no other place to put the battery. Festool chose to go with a D-handle design similar to their other drills, and moved the battery to the bottom of the drill. This allowed Festool to design the handle around comfort instead of the battery, and it also gave the...
Hot Deals
Chris March 30, 2011
0
0
Amazon.com has a pretty sweet deal on the newer DeWalt ultra compact 12V Max line of lithium-ion tools. If you purchase one of these tools, Amazon will send you a $25 gift card, which brings the cost of some of the tools down to under $100. Sadly you are limited to only one gift card. This offer is good through March 31, 2011, so HURRY. This offer is valid for the following tools: DCF610S2 1/4-inch Screwdriver DCF815S2 1/4-inch Impact Driver DCF813S2 3/8-inch Impact Wrench DCD710S2 3/8-inch Drill...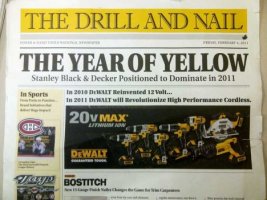 News
Chris March 18, 2011
0
0
ToolsInAction has the scoop on what is possibly the new 20V Max lithium-ion line from DeWalt. They somehow got a hold of a flyer that pictures what appears to be a new line that will be released later this year. I believe DeWalt announced their 12V line back in June of last year, so if they are following the same timeline, we have a few more months to wait. The flyer shows 3 drills, 2 impacts, a reciprocating saw, and a circular saw. The new line looks a lot like their 12V line, and uses a...
Manufacturer News
Chris March 02, 2011
0
0
Makita has announced some new 12-volt max tools, and pretty much completes an upgrade to their entire 12V line. Of course they could still always expand on their line, and that would be just fine with us. Some of the new tools we have seen already, such as the FD02W Drill/Driver and the SH01W Circular Saw that make up the LCT307 kit. The other new tools in the line seem to only have minor updates over the previous models. Power wise the specs appear to be the same as previous models, so it probably doesn't make...