News
Chris January 08, 2013
0
1
Milwaukee announced on their Facebook page that products from their new M12 Fuel line will start shipping to stores on February 1, 2013, which means that you should be able to purchase them later in the month.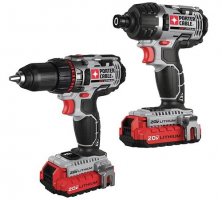 News
Chris January 07, 2013
0
1
Porter-Cable has announced a February release date for their new 20V Max Lithium-ion Drill and Impact Driver. And Tool-Rank still hates having to explain to people that 20V Max is the same as 18V.
Hot Deals
Chris November 23, 2012
0
1
Update 6/4/2013 - This deal is back up for grabs for a third time as an Amazon Gold Box Deal of the day. Even though a lot of time has gone by since this was first posted, this is still a good deal at $93 because of the two included L-Boxx cases. Update 1/8/2013 - Amazon has brought this deal back as a Gold Box for today. Get it while you can, you don't want to miss out. 11/23/2012 - We don't see deals like this very often, but this package deal that...
Manufacturer News
Chris October 02, 2012
0
3
Who do we turn to when we need saving? Why the Justice League of course. But who does the Justice League turn to when the Hall of Justice needs saving from disrepair? Apparently they turn to the Craftsman Technician and his trusty Craftsman Bolt-On Modular Tool System.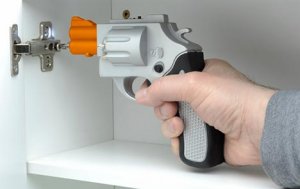 News
Chris August 23, 2012
0
0
Not too long ago we saw what happens when a gun and tool enthusiast combines both of his passions; what he came up with was a Glock that was modded to look like a DeWalt 12V Max Drill. This time around we have the flip side to the coin.
News
Chris August 21, 2012
0
4
Black & Decker has just announced their new Matrix Multi-Head modular tool system which will allow users to build up their tool inventory one head at a time. Users will also be able to select the power of the new system by selecting one of three power base units.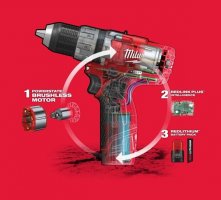 News
Chris August 07, 2012
0
1
Along with Milwaukee's announcement of new higher capacity batteries comes their announcement of new Brushless M12 cordless drivers. In my opinion Milwaukee has been the leader in 12-volt ultra compact tools, and they have shown this again by leading the pack with Brushless ultra compact drivers.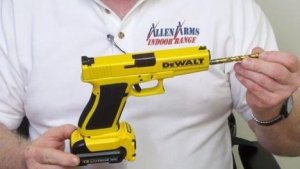 Gadgets
Chris June 22, 2012
0
1
The newest Yellow tool promises to make holes faster than any other ultra compact drill gun on the market today. However, with this greater speed does come some limitations. Unlike traditional drill guns, this model is limited to only 13 holes per charge and can only produce 11.5mm or .452 in sized holes. Its limitations might sound like a deal breaker but it also has the ability to produce holes at distances up to, and surpassing, 55 yards. In case it wasn't already obvious by the outlandish specs, what you are seeing is not a new drill...
Manufacturer News
Chris March 19, 2012
0
0
Makita introduced a new Impact Driver (model LXDT04) and a new Hammer Drill (model LXPH01) over the weekend, but their specifications lead me to believe that these belong in a mid-range class. I don't know that Makita officially has a mid-range class of tools, but I believe these tools fall into that class for a number of reasons. Either that or Makita is moving in the wrong direction in order to produce more compact tools.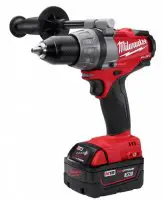 News
Chris March 13, 2012
0
1
The evolution of tool technology continues to impress, and Milwaukee is leading the charge with their latest line of cordless drills. Their new M18 FUEL line features the latest in drill technology, yet still manages to remain affordable to tradesman. So what makes the M18 FUEL line so special? How about better power, longer run times and long tool life?