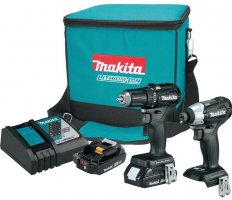 Tool Blog
Chris November 01, 2016
2
1
Many tradesmen, myself included, are not interested in the biggest, badest new tool on the market. What makes us happy is a tool that can do the job, yet takes up as little weight or space as possible; this is what Makita's Black line of 18V Sub-Compact Brushless Drivers seems to be offering.
Editorial
Chris March 07, 2016
0
1
When it comes to cordless drills, how much torque do you really need? As we have come to expect from cordless tool manufacturers, with each new flagship drill model that comes out, we want a tool with more torque than what the previous model had. My question is, do we really need more torque or are we just after bragging rights for the highest number.
Tool Blog
Chris October 22, 2014
0
1
I have said in the past that you don't always need to own the most powerful tool; there are more aspects of the tool to consider, like weight or price. So if size or weight are more important, Bosch has the tool for you. They say their DDB181 packs a big punch, yet while 18V, it is the size of a 12V Drill.
Tool Blog
Chris August 28, 2014
0
1
DeWalt has come out with a new line of air tools for professionals in the automotive industry. DeWalt says they have been engineered to meet the high-end performance standards demanded by tradesmen and they include features that ensure they can take as much as they can give.
Videos
Chris March 21, 2014
1
0
Matthias Wandel, of woodgears.ca once again proves that he can build pretty much anything out of wood and other scraps he has lying around his shop. In previous videos he built himself a wooden scaffold to reach the lights that needed to be changed in his large shop. In his latest video he uses more scrap wood and a drill to motorize his scaffold, complete with forward, reverse, and steering. The results are more impressive than you might have thought.
Tool Blog
Chris February 18, 2014
0
4
Let's face it, we all like the idea of smaller, lighter tools, but we also don't want to sacrifice on power. Bosch's new line of 12V Max Brushless drill/Drivers promise to deliver on both. With brushless technology the tool can offer more and weigh less.
Manufacturer News
Chris October 04, 2013
0
2
Milwaukee Tools is set to release a total of six new M18 Compact Drills and Drivers over the next few months that will replace existing models. The new models include two Drills (2606-22CT, 2607-22), two Impact Drivers (2657-22CT, 2656-20), and Two Impact Wrenches (2658-22, 2659-22). All six boast improvements to ergonomics and overall performance.
Hot Deals
Chris August 13, 2013
0
1
Sears has a hot deal up right now on a 12V Drill and Impact kit for the low low price of $39.99, Regular $109.99. The kit also includes a single 12V lithium-ion battery. The kit would be considered light-duty by today's standards, but at only $40 it is well worth the price. Buy it as a tool to use around the house and it will pay for itself after just a few uses. Heck, the impact has more torque than the impact I used every day on the job a few years ago. If I didn't have...
News
Chris February 25, 2013
0
2
If are ready to start building up a set of Makita 18V cordless tools, and one of their LXT cordless oscillating multi-tools is on your list, you might be interested to know that Makita is now selling them in combo kits.
News
Chris January 22, 2013
0
4
It looks like Rockwell Tools is bringing the 14.4V cordless class back from the dead. With 18V tools becoming more powerful than ever and 12V tools becoming smaller than ever, Rockwell is looking to fill the gap.