11 results - showing 1 - 10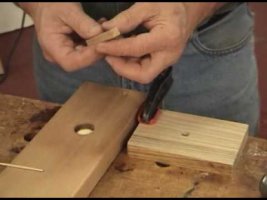 News
Chris   April 13, 2010  
1
0
Actually I am only telling you a half truth. The latest bits from Lee Valley will give you a square hole and does use a drill, but there is more to the story. This new tool is actually a fancy square hole punch that uses a drill bit to remove most of the wood material. For those of you wondering, yes, it functions almost exactly the same way as an electric mortise machine.
Tool Blog
Chris   January 26, 2015  
1
1
Drilling, tapping, and deburring typically requires three separate tools and at least a couple of minutes of your time for each hole. Klein has introduced their new Drill Tap Tool Kit that requires only one tool to accomplish all three tasks, and best of all, it is a lot faster to use.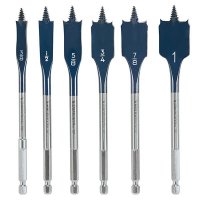 Hot Deals
Chris   April 21, 2014  
1
1
Amazon has one of my favorite drill bit sets on sale for less than $10, the Bosch 6-piece DareDevil spade bit set. Bosch's DareDevil spade bits were one of my first reviews back in 2008, and guess what, I still like them. They were even given the prestigious Tool-Rank Pick award, which has only been given out 10 other times.
Tool Blog
Chris   February 12, 2014  
0
0
Ideal is probably not the first company you think of when you think about drill bits, but they are looking to change all that with the introduction of their new line of professional grade drill bits. Catering to their core audience of electricians and technicians, Ideal sought to improve the drill bits these contractors use most.
Hot Deals
Chris   May 14, 2012  
0
0
Amazon is running another one of their famous $20 free gift cards deals on tools, and now through June 14th this deal is good on the Drill Doctor DD750X. This model is currently listed on Amazon for 123.99, so the free $20 gift card brings the price down to just under $104. This item also qualifies for Amazons Free Super Saver Shipping. If you have never used a Drill Doctor you have no idea what you are missing out on. You can take most of your twist drill bits and make them good as...
Cool Tools
Chris   March 14, 2012  
2
0
A couple of years ago I wrote about a new tool by Darrell Peart that allows users to drill square holes without the need for any specialized machinery. The tool was similar to a mortise chisel, but it was designed to work with a regular drill and a mallet. In reality, you can not really drill a square hole with this system, though a Tool-Rank users posted a link in the article comments that detailed the math that would be involved if you could. Today we take a look at a couple of videos that show that this type...
News
Chris   January 05, 2012  
1
0
When you need to bore a clean precision hole, the forstner bit is probably pretty high on your list of bits to choose from. The center point is long enough to ensure that the bit doesn't wonder, but it is also short enough to allow the user to make stop cuts without breaking through the other side. But this short center really limits one's ability to use a forstner bit to drill on an angle. This, is where the Festool ZOBO bit aims to fill the gap
News
Chris   May 03, 2011  
1
0
Drilling into concrete is no major ordeal, that is, unless you drill too far and hit a post-tension cable. If you do that, you might as well just quit your job on the spot. Of course a simple preventative measure is to use the depth stop that came with your rotary hammer, but those often get lost, then all you have is a piece of tape on the bit to mark your depth. Bosch has a better way; their new precision stop bits take all of the guess work out of drilling, and feature...
Editorial
Chris   December 21, 2010  
0
0
John from the Bridge City Tool Works Blog has an interesting article detailing some pretty unbelievable things he discovered when he payed a visit to an OEM Chinese factory some 10 years ago. You might be shocked at what he found out, but after the recent Chinese drywall issue and all of the lead painted toys, can we really be shocked at what comes out of China? ...I walked into the factory section that made twist drill bits. Here they were making, for the AMERICAN MARKET, those 59, 89, 119 pc drill sets found at...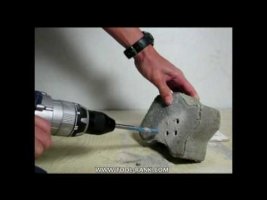 Reviews
Chris   April 14, 2009  
1
0
Over the past couple weeks I have been testing out the new Bosch Multi Construction Drill Bits, and so far I am really liking them. Being a finish carpenter, I have on a number of occasions had to install cabinets, and vanities over tiled walls. The problem with this is that you need one drill bit to drill through wood, and another to drill through the tile. The Bosch Multi Construction Bits really make it easy to drill through both materials at the same time. Another problem I have is attaching wood backing to concrete walls with...
11 results - showing 1 - 10