16 results - showing 11 - 16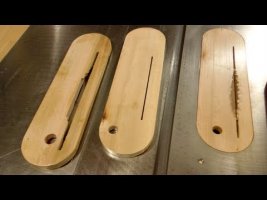 Weekend Links
Chris June 02, 2012
1
0
Dust Free Drilling with the Dust Bubble - Homefixated Need to drill a hole and leave no evidence behind? Check out this cool and weird product that will capture the dust into a bubble that you can then throw into the trash. A vacuum is probably more practical for a lot of drilling, but if you have a few holes, this bubble might save you. Load-N-Lock Lunch Bucket - ToolSkool When you go to work you need a manly lunch. The Load-N-Lock Lunch Bucket is big enough to hold your...
Cool Tools
Chris May 21, 2012
2
0
I was going to take a lazy day today, because it is my birthday, and not post an article, but I came across these videos over the weekend of Matthias over at WoodGears building a cool new router copy contraption and thought I would share them. His latest machine accepts a small trim router and allows the user to use a follower to duplicate an object into wood. In his first example Matthias was able to copy a wrench and get some pretty good detail. If you want more information, be sure to watch...
Editorial
Chris June 24, 2011
0
1
In an effort to better organize my home workspace I decided that I needed to get some of my non-work tools out of boxes/bags and into places where I could more easily access the ones I use most. My solution was simple, and probably the same solution that many of you use, pegboard. A full sheet of pegboard is cheap, and with the right hooks and attachments, you can organize a good portion of your tools. Next all I needed was pegboard hooks. Lucky for me, my Father had a box full of them that he let me dig...
Cool Tools
Chris February 04, 2011
1
0
Back in the olden days when a man needed a tool, he made it himself; but now all we have to do is head to the local hardware store. Tech is really growing in the construction world, and this makes making your own tools almost impossible. But for those of you looking to get back to your home-made tool roots, check out this DIY ultrasonic distance measure. To make you own ultrasonic measure, all you need is the open-source Arduino ($35), a ping ultrasonic sensor ($30), a display ($50), and a bit of code (free). Of course the whole...
News
Chris November 05, 2010
0
0
We all have different body types, and we all have different tool needs. So what do you do if you just can't seem to find a toolbelt that has everything you want, exactly where you want it? You make your own, of course. That is... if you have a background in industrial sewing. m@tt over at the Contractor Talk message boards put cost, speed, and simplicity aside and decided he was going to start from scratch and make his own toolbelt. Putting his industrial sewing skills back to work, he designed and built one...
Editorial
Chris June 04, 2009
0
0
When I say cheap and mean the best kind of cheap, FREE. If you are reading this, it is probably pretty safe for me to assume that you own a computer. If you have the same luck that I have with hard drives, it is also very likely you have a couple dead or retired ones around the house. Inside these hard drives are a couple very powerful neodymium magnets aka rare earth magnets. With these magnets you will be able to detect metal studs from behind drywall and other materials. You can also use these magnets...
16 results - showing 11 - 16