16 results - showing 1 - 10
Tool Blog
Chris February 19, 2016
0
3
Let's face it, we can never get enough runtime out of our batteries. Every year the manufacturers pack in more cells, that hold more juice, and we still want more. The desire for more power was seemingly so strong for one DeWalt cordless tools user that he decided to Frankenstein together his own DeWalt 8.1Ah battery.
Tool Blog
Chris September 24, 2014
1
0
You have all built your own edge sanders using just everyday shop materials, right? But have you taken it to the next level and made a fully functional oscillating edge sander, with bonus spindle sander? If you have you can stop reading here, but if you haven't you want to check out the video from Bellevue Woodshop below.
Videos
Chris January 28, 2014
1
0
Something we learn as a carpenter, or maybe more so as a woodworker, is that we can never have too many clamps. Building up a collection of clamps is usually something that is done over many years, which helps spread out the costs. But if you need clamps now and don't have a bunch of money, there is another option—make your own.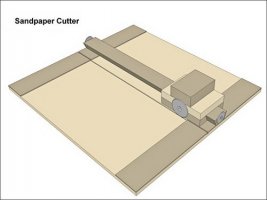 Gadgets
Chris July 24, 2013
1
1
If you have an electric sander that uses ½ or ¼-sheets of sandpaper, you probably find yourself spending a bit of time cutting your sheets to the correct size. If you use your sander fairly often, it can be a hassle cutting sheet after sheet. While cutting sandpaper is not exactly hard to do—and there are plenty of ways to do it—John Heisz from iBuildit.ca has a better way.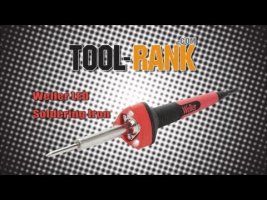 Reviews
Chris July 15, 2013
1
0
A couple of months ago I teamed up with Weller to give away one of their brand new soldering irons that feature built in LED lights. Not only were they kind enough to let me give one away to you fine Tool-Rank readers, but they also sent me one so I could see for myself if those new LED lights made a difference.
News
Chris May 14, 2013
1
0
Often times the homemade tools we find are more interesting than the actual tools they are meant to mimic. Such is the case with a rotary tool design that is powered by the suction of a vacuum and has the secondary effect of cleaning up after itself.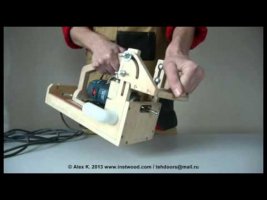 Cool Tools
Chris March 28, 2013
2
0
I think we can all pretty much agree that the Festool Domino mortiser is one cool machine. We might not all need one, but we can admire the engineering and the capabilities of the tool. So how much more impressed are we that a Russian carpenter made a similar functioning machine out of some basic shop tools.
News
Chris November 30, 2012
1
1
It is always very impressive to me to see the homemade tools that people make; the more complex the tool, the more impressive it is to me. So you can imagine how excited I was to see that someone made a rather complex scroll saw out of wood and a bit of electronics.
News
Chris September 25, 2012
2
1
How many of you have ever had the idea of building a dust collector from scratch? Mathias Wandel had this idea and decided to show us his progress on Youtube. A dust collector doesn't seem very complicated, but it turns out that there is a whole heck of a lot of engineering that goes into making one that works well. The hard part of building your own dust collector is coming up with a design that does a good job of filtering out dust but still has enough power and capacity to handle the debris that your tools throw...
Cool Tools
Chris August 15, 2012
1
0
When you are working with exotic woods it is not always easy to find matching dowel stock. You might be able to find something from a specialty store online, but if you are in a hurry, good luck finding it at your local store. The best way to find dowel stock to match your project is to make your own
16 results - showing 1 - 10