3 results - showing 1 - 3
Tool Blog
Chris March 12, 2014
0
1
Makita is continuing to expand their line of concrete hammers with Anti-Vibration Technology and that includes the new 1-9/16-inch HR4013C AVT Rotary Hammer. They say is has 45% less vibration and 20% more impact energy than their own previous model, and that it is the leader of its class.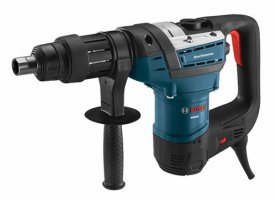 Tool Blog
Chris December 10, 2013
0
1
Bosch is introducing two variants of the RH540 1-9/16-inch rotary hammer that they say deliver the fastest drilling and the hardest hits in their class. Both SDS-Max(RH540M) and Spline(RH540S) models will hit stores in February 2014 at a suggested price of $419.
News
Chris September 19, 2011
0
0
Wilton has introduced a new sledge hammer named BASH that they claim has a handle that is unbreakable. Now I have a hard time thinking that anything is truly unbreakable, and I believe the actual warranty for the BASH will state that the handle is unbreakable under normal conditions, but the fact that they back up their tool's handle with a $1000 guarantee for 2 years, thus putting their money where their mouth is, should add a bit of confidence to anyone purchasing the tool. What makes the BASH handle so much better than...
3 results - showing 1 - 3