2 results - showing 1 - 2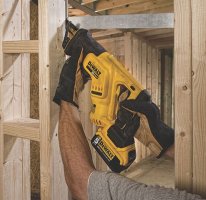 Tool Blog
Chris   September 25, 2014  
0
1
DeWalt is coming out with a new 20V Max cordless reciprocating saw that is more compact to allow remodelers, carpenters, plumbers, electricians, and the like to make controlled cuts in tight spaces such as between studs, or in crawl spaces. With reciprocating saws, sometimes smaller is better.
Tool Blog
Chris   June 10, 2014  
0
3
DeWalt is introducing their next generation of batteries to work with their 12V and 20V MAX tool lines. The new EXTREME RUNTIME (XR) batteries offer a 2.0Ah capacity (DCB127) for 12V MAX and 5.0Ah capacity (DCB205) for their 20V MAX tools. Along with the new batteries is a new dual-port charger that can charge both batteries as well as a couple of USB devices.
2 results - showing 1 - 2