3 results - showing 1 - 3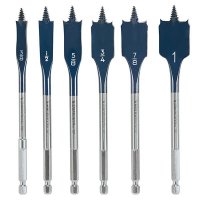 Hot Deals
Chris April 21, 2014
1
1
Amazon has one of my favorite drill bit sets on sale for less than $10, the Bosch 6-piece DareDevil spade bit set. Bosch's DareDevil spade bits were one of my first reviews back in 2008, and guess what, I still like them. They were even given the prestigious Tool-Rank Pick award, which has only been given out 10 other times.
News
Chris August 18, 2011
0
0
Bosch has recently announced a new Saw blade that is part of their DareDevil line. The blade is designed to perform better and last longer than other blades on the market, and if they are anything like their DareDevil Spade bits, framers really having something to look forward too. The boost in performance is due partly to features like Bosch's C3 Micrograin Carbide teeth, which are said to not only stay sharper longer, but they can also resist impact damage. Other features include a special coating on the blade that helps to reduce binding in wet...
Reviews
Chris October 27, 2008
1
0
You might remember a past post Bosch introduces their new DareDevil spade bit line, where Bosch introduces a self feeding spade bit.
3 results - showing 1 - 3