8 results - showing 1 - 8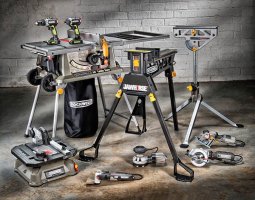 Hot Deals
Chris November 18, 2014
0
1
If you are paying full price this holiday season you are probably overpaying. With Christmas soon approaching, all it takes is a little research and you could be saving big on your holiday shopping. In this case, however, there is no research involved; Tool-Rank has teamed up with Rockwell Tools to offer coupon codes for Black Friday, Cyber Monday, and even a code that is good for the rest of 2014.
Hot Deals
Chris November 15, 2013
0
1
With Black Friday fast approaching not only is it a good time to be shopping for others, but it is also a great time to score some hot deals for yourself. To be sure you don't miss one of their hot deals when it comes around, Amazon has set up a website hub dedicated to Black Friday and the deals that can be had now, leading up, to and following the Dark Day Of Deals.
Hot Deals
Chris July 18, 2013
0
1
Blaklader makes some pretty awesome pants, but all that awesomeness comes at a price that is a little higher than your average work pant. But like I said, these pants are above average, and once you try them for yourself, you will probably agree. So how do you make awesome pants even more awesome? Put them on sale. Contractor-Solutions is currently running a promotional code that will get you $25 off of your order of Blaklader Bantam pants. These pants normally cost just under $60, so a $25 savings is a pretty big...
Hot Deals
Chris February 18, 2013
0
1
If a full day of partying like it's 1879 isn't good enough for you on this Presidents' Day, stores across the country have found an excuse to offer SALES. One of those stores is TylerTool.com, and how can we pass up a good deal?
Hot Deals
Chris January 14, 2013
0
1
20% off Harbor Freight Coupons can not only get you some pretty good deals on some decent tools at Harbor Freight, but did you know you can use these same coupons at other stores to save you big money on real tools?
Hot Deals
Chris December 26, 2012
0
1
Didn't find that tool you wanted under the Christmas tree or in your stocking? Don't worry because there are still plenty of deals to be found. A number of sites are offering After Christmas Sales that are just as good as the before Christmas sales.
Hot Deals
Chris July 17, 2012
0
1
A few months back I criticized Home Depot on Twitter for the rather lame coupons they were sending out in their Home Depot Pro newsletters. The coupon (advertised as a Home Depot Pro Exclusive) offered a savings of $5 of off a $150 or more purchase. Are you kidding me? What a joke. Well now it looks like Home Depot is finally offering real savings in these exclusive coupons they are sending out.
Hot Deals
Chris March 15, 2012
0
0
Isn't Harbor Freight an amazing store? They have all of the small things that find myself needing and they are always at super low prices. Now, I never go into Harbor Freight expecting to get high quality tools that are anywhere close to contractor grade, but at their prices it is hard to complain about what you get. Harbor Freight is a good place to buy low-use tools. If you have a project that requires a mini grinder, but you don't plan on using it very much in the future, one of the Chinese brands will...
8 results - showing 1 - 8