2 results - showing 1 - 2
Tool-Rank
Chris August 21, 2018
1
1
Contest Information
Contest Ends
September 14, 2018
Bosch really want's to get the word out about their new generation of Core batteries and how they pair with their new and existing cordless tools. So much so, they are running a huge giveaway where they will be giving away 2,000 cordless tools with the new Core 6.3Ah battery. Each prize retails for around $300, which puts the total combined retail value of the giveaway at around $600,000. Yeah, it is insane.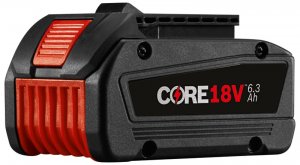 Tool Blog
Chris January 18, 2017
0
1
At a time where power tool manufacturers are racing to take every tool that is corded and making cordless versions, the battery technology also has to keep up. In order to power their upcoming "high-power" cordless tools, Bosch has created their new high-efficiency (GBA18V63) CORE18V 6.3Ah Battery.
2 results - showing 1 - 2