15 results - showing 11 - 15
Hot Deals
Chris April 05, 2012
0
0
Lowe's seems to be clearing out a lot of Bosch tools lately. Every couple of weeks I am back with a new deal they are offering. Up for grabs this time is the Bosch PS31-2A 12V Max Ultra Compact 3/8" Cordless Drill. This is the ultra-compact drill version that features a real drill chuck, so there is no need to buy those special hex drill bits. Other features include a two-speed transmission, a 20 + 1 clutch, and an LED light. The PS31-2A has been marked down to $99 from $149 and there is no need...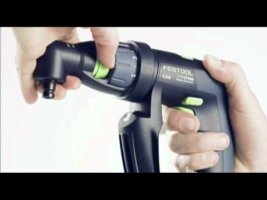 News
Chris February 10, 2011
2
0
Festool posted a teaser video on youtube of their new CXS Ultra Compact Cordless Lithium-ion Drill. The drill is expected to be released this May (the month of my birth *hint hint*) and will be powered by a 10.8 volt 1.3Ah battery that can be charged in 20 minutes. Festool didn't share very much in the way of specs, but the dill is already for sale in Europe and specs are probably the same. The CXS has a 2-speed transmission that gives us speeds at 0-400/0-1200 RPMs. The drill can be purchased as a standalone kit with a hex...
Videos
Chris January 20, 2011
1
0
Last night tennis ran into a little problem on one of the courts at the Australian Open, but lucky for us there was a man with a cordless drill to save the day. Tennis is a simple game, but it can only be played if the tennis balls are allowed to bounce. However, last night there was an issue within a small area of the court surface in the Hisense Arena that prevented the balls from bouncing. What looks like a simple coated concrete surface on TV is actually very complex; consisting of multiple layers of rubber...
News
Chris December 10, 2010
0
0
Makita has been an industry leader when it comes to cordless lithium-ion tools, and were the first to come out with the tools we categorize as "Compact". These Compact tools run off of 18 volts of power, but use a smaller battery, and the tools themselves are smaller in size. Makita has announced that they have come out with a new 18-Volt Compact Drill/Driver that is even smaller in size then previous models, by 7/16", and weighs in at only 3.3 lbs. Small and light is good, but according to the specs, the tool...
Reviews
Chris April 23, 2010
0
4
When Bosch asked if I wanted to review their latest 12 volt pocket driver, I just had to say yes. I asked the Tool-Rank readers not long ago if they thought 12 volt tools offered enough power, and now I would be able to see this for myself. It is weird that in the relatively short life of cordless tools we have come far enough that instead buying tools wanting excess power, we are looking at smaller tools with enough power. Why buy a tool that can drive a 6" lag bolt, when we only need to drive a...
15 results - showing 11 - 15