15 results - showing 1 - 10  
Reviews
Chris   July 14, 2016  
1
3
When I first heard about the features Milwaukee was planning on incorporating into their One-Key system I could not help but feel like a little kid waiting for that hot new toy of the year to come out. After getting samples of the Milwaukee One-Key Drill (2705-20) and the One-Key Impact (2757-20), and after the new-tool-high started to wear off, I got down to business, trying to find out if the One-Key system is a useful feature or just something fancy that I can show to the co-workers but would rarely use. Is was time for me to...
Editorial
Chris   March 07, 2016  
0
1
When it comes to cordless drills, how much torque do you really need? As we have come to expect from cordless tool manufacturers, with each new flagship drill model that comes out, we want a tool with more torque than what the previous model had. My question is, do we really need more torque or are we just after bragging rights for the highest number.
Tool Blog
Chris   December 15, 2015  
0
2
Milwaukee One-Key is a new feature that Milwaukee announced back in September that allows One-Key enabled tools to communicate wirelessly with smartphones running the One-Key App. While the App was released in September, since no One-Key enabled tools were available, it was only really useful for tool inventory management. That is all about to change February 2016 when the first One-Key enabled tools with Tool Control will hit store shelves. These first One-Key Tool Control tools will be a selection of M18 Fuel Drills and Impacts.
Tool Blog
Chris   February 27, 2015  
0
1
Rockwell is proving that they can keep up with the big boys by coming out with their own brushless Drill & Impact Driver Combo Kit. Their brushless motor technology increases battery runtime by 50% per charge over brushed motors and is backed by a 10-year warranty.
Tool-Rank
Chris   May 01, 2014  
0
2
It's the first of the month again and you know what that means; it's time for another amazingly awesome Tool-Rank Giveaway. Joining us this month is Bosch Tools, and they are graciously providing their new HDS182-01L 18V EC Brushless Compact Tough ½-Inch Drill/Driver as the prize for one lucky winner.
Tool Blog
Chris   April 03, 2014  
0
1
If you have ever used a large hole-saw in a drill you know the dangers that can happen if the saw binds into the wood. The drill will either twist right out of your hand, or your wrist will end up twisting right along with it. To prevent this from happening, Bosch's new DDH181X Drill and HDH181X Hammer Drill use something called Active Response Technology.
Hot Deals
Chris   October 01, 2013  
0
1
HomeDepot.com has a pretty sweet deal on the Milwaukee M12 3/8 in. Drill/Radio Combo kit. What was normally $199 has been marked down to $149 for the week. Taking a quick look at other online stores finds the same kit for $189 or higher. What makes the deal even better is what is included with the kit. At $149 you might expect something bare-bones or with only one battery, but on top of the Drill and Radio, this kit actually comes with two batteries, a charger, and a contractor bag. Get the deal (online only)...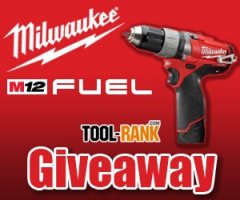 Tool-Rank
Chris   July 09, 2013  
0
1
Contest Information
Contest Ends
August 09, 2013
Do you know what time it is? It's giveaway time. And since we haven't done a Milwaukee giveaway in a while, and because they have been releasing a lot of really nice products lately, we decided to team up with them for this giveaway. What we have to offer is one of their new M12 Fuel Brushless Drills.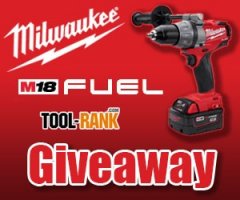 Tool-Rank
Chris   January 28, 2013  
0
1
Contest Information
Contest Ends
February 28, 2013
We took a little bit of time off from our giveaways over the holiday season, but we are back in the new year with a great new giveaway from Milwaukee Tool. Up for grabs this month is the Milwaukee 2603-22 high performance M18 Fuel brushless cordless Drill/Driver, a tool that features some of the latest in cordless tool technology. If you are looking for a powerhouse in a drill, this is it.
Hot Deals
Chris   May 15, 2012  
0
0
There are a few great deals on Bosch tools leading up to Fathers Day, but this one from Home Depot is a real sweet one. HomeDepot.com has the Bosch 18V Compact Lithium-ion Drill (DDB180-02) marked down from $148 down to $99 + F/S. And this is not just the tool, this is a complete kit with two batteries and a charger. If that was not good enough for you, this drill also qualifies for a Bosch mail-in rebate that will get you two additional 18V slim-pack batteries. So in total you get a Bosch 18V Compact...
15 results - showing 1 - 10