2 results - showing 1 - 2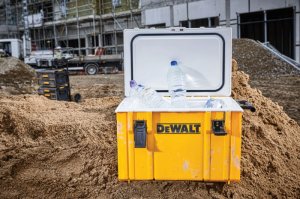 Tool Blog
Chris   June 29, 2018  
0
1
As I have mentioned numerous times in the past, I am a big fan of the modular DeWalt ToughSystem (be sure to read my review). It is what I use to organize and transport my tools to and from the jobsite. Even though I have my system configured just how I want it, I am always excited to see what new additions DeWalt makes to the modular system.  However, their latest additions are not really what I expected, a ToughSystem Ice-Cooler (DWST08404) and the new ToughSystem Waterseal Drawers (DWST08290).
Tool Blog
Chris   June 13, 2014  
0
1
We have seen Festool Systainers modified to suit the different needs of its users, including being turned into a jobsite radio, or another jobsite radio, and I have even seen one turned into an air compressor housing. But just like what Festool did with their Systainer First Aid Kit, they have come out with their own Limited Edition Insulated Systainer Modification.
2 results - showing 1 - 2