4 results - showing 1 - 4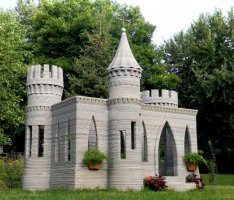 Gadgets
Chris September 02, 2014
1
1
Andrey Rudenko, an engineer in Minnesota, has successfully built a large scale castle using a custom designed 3D concrete printer, and that is just the beginning. He started experimenting with 3D printing concrete about 20 years ago and now the technology is here to make full-scale 3D home printing possible.
Cool Tools
Chris March 20, 2012
0
9
Love tools and love technology? Then how about mixing them together with one of these cool handmade iPad docks that is made out of repurposed tools. Put one of these docks in your workshop and it will fit right in; just don't accidentally reach for one of the tools and knock your tablet to the floor. Tears might soon follow.
Cool Tools
Chris March 14, 2012
2
0
A couple of years ago I wrote about a new tool by Darrell Peart that allows users to drill square holes without the need for any specialized machinery. The tool was similar to a mortise chisel, but it was designed to work with a regular drill and a mallet. In reality, you can not really drill a square hole with this system, though a Tool-Rank users posted a link in the article comments that detailed the math that would be involved if you could. Today we take a look at a couple of videos that show that this type...
Cool Tools
Chris July 05, 2011
0
0
Need a hose clamp, but the ones you have are too big? Or maybe they are not big enough? The Clamptite might be the ideal solution to all of your custom hose clamping needs, or maybe just a cheaper solution for all hose clamping. The Clamptite is a fancy little contraption that allows its users to make custom hose clamps out of basic wire. This design also allows you to match the size and type to your needs. Needs a copper hose clamp? Use copper wire. The Clamptite sounds like a really cool product,...
4 results - showing 1 - 4