2 results - showing 1 - 2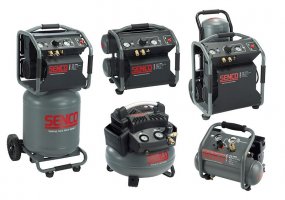 Manufacturer News
Chris   October 29, 2013  
0
1
If you are looking for a lightweight compressor that is portable and can tackle trim work, Senco has new 1-gallon and 6-gallon compressors that might be just what you need. If you want to go bigger, they have also announced three new 200 PSI compressors.
News
Chris   June 21, 2011  
0
0
I am a fan of small lightweight air compressors and have been using a small 1-gallon for years now on the jobsite. So when I got news about a new 1-gallon from Porter-Cable, the excitement began to flow; that is until I realized that the new C1010 compressor from Porter-Cable is the same as the D55140 from DeWalt. Not that there is anything wrong with the DeWalt, it's just that the new compressor is not really new. The specification for both units are almost identical, with the C1010 coming it at 71 decibels, which...
2 results - showing 1 - 2