2 results - showing 1 - 2
News
Chris September 13, 2012
1
1
I came across an interesting tool called a Push-Pull saw that is available in Europe by Bosch. It is unique in that it is almost like a cross between a table saw and a radial-arm saw. I know those tools sound like an impossible match, but Bosch managed to bring the two tools together.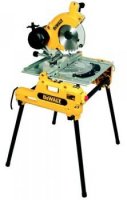 News
Chris August 10, 2011
1
1
We have seen a couple of combination miter/table saws now enjoying freedom in the U.K., one from Bosch with a table mounted on top of a miter saw, and one from Makita that flips to transform. Now it is DeWalt's turn to join in on the fun with their very own flipping combination transformation miter/table saw.
2 results - showing 1 - 2