2 results - showing 1 - 2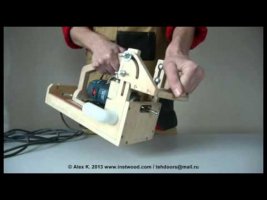 Cool Tools
Chris   March 28, 2013  
2
0
I think we can all pretty much agree that the Festool Domino mortiser is one cool machine. We might not all need one, but we can admire the engineering and the capabilities of the tool. So how much more impressed are we that a Russian carpenter made a similar functioning machine out of some basic shop tools.
News
Chris   October 08, 2012  
0
0
More than seven years ago Bosch released their Colt Palm Router; and who knew that all these years later it would be the router of choice by many tradesmen for light duty work. And while the Colt was good for light duty work, people always wanted more out if it. Now with the introduction of the PR011 Plunge Base, Bosch as given its tool all kinds of new possibilities.
2 results - showing 1 - 2