10 results - showing 1 - 10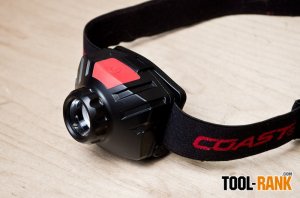 Reviews
Chris November 20, 2015
0
12
One of the things I like about Coast is that not only do they make great multi-purpose lights and knives for users that need tools for a variety of different situations and uses, they also make products that are task specific. The new Coast FL60 Headlamp is one of those task-specific products that they have developed for users that need to clearly light up a wide area, and that is what I am going to be talking about in this review.
Reviews
Chris July 10, 2015
0
6
If you are the type of person that likes to carry around a pocketknife and a flashlight, you might be interested in the Coast LK375, a new tool that combines both. Coast is known for their knives and their flashlights, but were they able to combine the two to make a product that does both jobs well? Read on, to find out my thought.
Tool Blog
Chris April 29, 2014
0
1
I am already a fan of Coast because they make great LED flashlights and knives at reasonable prices. So what can they do to be even better? How about making their most popular flashlight designs even stronger by using polymer.
Reviews
Chris August 28, 2013
1
10
When Coast contacted me and said they were sending over their new HL27 LED Headlamp, I couldn't help but remember that I had just done a video of their HL7 LED Headlamp; what could be so different? It turns out the HL27 has a number of improvements that might make it worth an upgrade.
Tool Blog
Chris April 17, 2013
1
1
Here at Tool-Rank we often come across great tools that do their jobs well; but only every once in a while do we come across a tool that we absolutely love. Those products deserve some extra recognition and are given the Tool-Rank Pick badge, an award that tells the world they are special. Today the award goes to the Coast Rapid Response Knife.
News
Chris January 11, 2013
0
4
There is no question about it, Coast makes some really great LED flashlights in a number of different product lines to meet the needs of your average user all the way up to those whose lives depend on them. There was one thing missing though, rechargeable flashlight options; but it looks like that will soon be covered as well.
Tool Blog
Chris December 20, 2012
3
1
It has been a couple of months since I started my 72-Hour kit build, which uses the Bosch Click & Go L-BOXX system to store and organize all of my survival supplies. It was a bit of work in getting all of the supplies together, getting everything organized and publishing the content here on Tool-Rank, but in the end I feel better prepared to handle a disaster of any kind.
Tool Blog
Chris November 09, 2012
6
36
Let us pretend that you have just survived a natural disaster but you can no longer use your house the way you used it just a few days before. The power is out, you have no running water, and you have no heating. This sounds a lot like what has happened, and is still happening, on the East Coast. For these reasons and more, it is a good idea to have a small tool kit that you can use to help you survive until you can rebuild.
Tool-Rank
Chris October 01, 2011
0
0
Contest Information
Contest Ends
October 31, 2011
Giveaway Ended Did you see my Coast A15 3xAAA LED Professional Flashlight review? If you didn't, you need to check it out and see all the features that make it great. Here at ToolRank I like to give away prizes that are useful, and who couldn't use a flashlight? But we all have flashlights at home, right? Well I do too, but none of them are as bright, as strong, or as cool looking as the Coast A15. The best feature of all is the dual lens that the A15...
Reviews
Chris September 29, 2011
0
0
The days are getting shorter, the nights are getting longer, and we are entering what I like to call "flashlight season". Soon you will be arriving at work, or leaving, in the dark. Because of the dangers of the jobsite, one thing you don't want to do is navigate in the dark. The reasons to keep a flashlight handy far outweigh the excuses to not have one, so it would seem to be perfect timing for a flashlight review, and I have one for you thanks Coast. What Coast sent over was their A15 Professional LED...
10 results - showing 1 - 10