12 results - showing 1 - 10  
Tool Blog
Chris   June 01, 2018  
1
1
We all know the typical rip-fence setup routine for a table saw. First, you unlock the fence, then you measure and position it, then you tap it a few times in both directions, then you lock it in place when you think you have it right—but you don't really have it right. The fence has inevitably moved while you were locking it into position. Now you get to do the whole process over again. Or, you could use a new product launched on Kickstarter called Rip-it, that offers a more automated solution.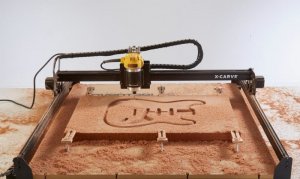 Around The Web
Chris   March 07, 2018  
1
1
Contest Information
Contest Ends
March 31, 2018
With online marketplaces like Etsy and Amazon Handmade, it is easier than ever for a creative person to take an idea that they have had, turn it into a product, and then sell it. The hurdle for many, though, might be how they would manufacture their product. Inventables wants to give your small business a head start by giving you the opportunity to win one of their X-Carve Business Bundle 3D carving machines.
Tool Blog
Chris   September 26, 2017  
0
3
I have been researching CNC Router Kits lately, trying to see if it would be worth it for me to automate some of the work I have been doing. One thing that bothers me with what I have been seeing is the way the drive mechanisms are exposed to dust and debris. My other concern is with the rigidity of CNC routers made using extruded aluminum. However, the new C-Beam based WorkBee from Ooznest seems to address both of my concerns while still remaining modular.
Tool Blog
Chris   August 23, 2016  
1
1
CNC machines are becoming more popular among hobbyists and DIYers as the price of them continues to drop and they become more affordable. Yet one thing that still keeps some users at bay is the amount of space a CNC takes up. Shaper plans to solve that problem with their Origin handheld CNC.
Tool Blog
Chris   July 22, 2016  
0
3
Ooznest has announced that they have released a new hobbyist CNC Router Kit that is based on the OX CNC by Openbuilds. The full machine kit would allow users to mill parts from wood, plastic, and soft metals from their home shop or garage.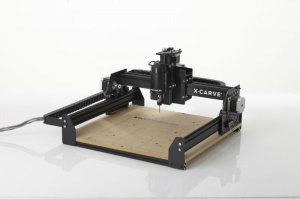 Tool Blog
Chris   March 03, 2015  
2
4
X-Carve is the latest desktop 3D Carving machine from Inventables Inc., the makers of the the popular Shapeoko 2 3D Carving CNC machine and other cnc desktop machines. With the X-Carve, Inventables is bringing affordable 3D carving to makers with a machine that can mill plastic, wood, and even metal at a starting price of only $799.
Tool Blog
Chris   February 19, 2015  
1
1
The mechanics behind a CNC router, a laser cutter, and a 3D Printer are mostly the same, so why not make a machine that can do all three with interchangeable heads.? That is the idea behind the CNC Piranha Fx, a new project that is seeking funding on Kickstarter from the makers of the CNC Shark.
News
Chris   October 15, 2013  
0
1
If you have had your eye on the CNC Shark system from Rockler Woodworking and Hardware, now might be the perfect time to make that purchase. Rockler has come out with a new Limited Edition Black Diamond version of their largest CNC Shark model that comes with some nice extras, such as surface mapping. Best of all, it is on sale for the same price as the Shark HD V2.0
News
Chris   October 02, 2013  
1
1
Rockler Woodworking and Hardware has come out with a new product that I think is pure genius; and this genius comes in the form of a new electric router fence that can be programmed to make cutting box joints, dadoes, and dovetails a breeze.
News
Chris   June 27, 2013  
2
1
With most CNC routers you have to bring the material to the machine, but the new Handibot CNC Router has you bring the CNC router to your material. Is this going to be the gateway to getting CNC routers on the jobsite?
12 results - showing 1 - 10