10 results - showing 1 - 10  
Tool Blog
Chris   March 26, 2015  
0
3
Rockler has come out with a new clamp that makes it easier than ever to clamp onto the edge of plywood, MDF and other sheet goods. The Rockler Bendy Clamp provides even pressure around the edge, allowing for hassle-free installation of thick edge-banding and moldings.
Tool Blog
Chris   May 13, 2014  
0
3
Milwaukee has announced that they will be coming out with their own line of locking pliers and clamps. But what sets them apart from all the other locking pliers that are already available is a new feature called Torque Lock.
Videos
Chris   January 28, 2014  
1
0
Something we learn as a carpenter, or maybe more so as a woodworker, is that we can never have too many clamps. Building up a collection of clamps is usually something that is done over many years, which helps spread out the costs. But if you need clamps now and don't have a bunch of money, there is another option—make your own.
News
Chris   May 06, 2013  
1
1
Kreg is making using their products a bit easier and a bit faster with their new line of Automaxx self-adjusting clamps. Best of all, they came out with a self-adjusting AutoMaxx Klamp that works with their existing Klamp line, like the Klamp Table or Klamp track.
News
Chris   July 10, 2012  
0
4
Bessey is well known for their clamping tools and it is always exciting to see what they come out with next. What's next for Bessey this time, is flooring tools. More specifically, their new line of flooring tools consists of both flooring clamps and flooring spacers to help with alignment.
News
Chris   May 01, 2012  
1
0
Do you ever have tricky angled joints that you need to clamp together? One of the ways we do this is by saving the cutoff piece and using it to provide a square surface to clamp off of. Well what if you didn't save the cutoffs or you are working in the field with finished materials? The Blokkz UCB Universal Clamping Block is another way to help you with those tricky angles and a lot more.
News
Chris   February 27, 2012  
0
0
If you ask any woodworker to make a list of tools they need, high on their list you are sure to find clamps. It doesn't matter how many clamps a woodworker owns because at one point or another he will find out that he needs more. But it is not always about quantity, it is sometimes about size. That's why these adjustable clamps might be a nice addition to your shop.
News
Chris   November 09, 2011  
1
0
Many of the clamps that we own and use are designed to remain parallel during the clamping process. The parallel faces on these clamps are great in ensuring that whatever we are clamping remains secure and square; but what if we want to clamp something that is not square, maybe a round closet rod, or a tapered chair leg?
News
Chris   September 13, 2011  
1
0
Besides being a commercial for Festool products, in the video below, Gary Katz does a really good job showcasing and explaining the new Bessey Auto-Adjust Toggle Clamps. These are the clamps I showed you a while back that appear to use the same or similar technology as my favorite LockJaw Auto-Adjusting Clamps. When I first posted about these clamps back in July, I also posted a video from Bessey that showcases the clamps, but what I like about the Gary Katz video is that he shows us how, as a woodworker or as a finish carpenter, you can use...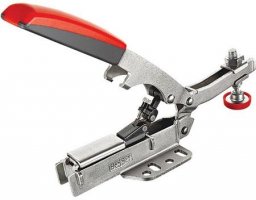 News
Chris   July 20, 2011  
1
1
Toggle clamps are the go to clamps when it comes to jigs and fixtures for hobby woodworking and even large scale manufacturing. Their ability to secure your workpiece in just a matter of seconds is what makes them ideal for many clamping needs. However, toggle clamps do have a downside, they do require a bit of setup time to get the clamps adjusted to the size of material you are clamping. If you need to change from one size of material to another, you are better off just build a jig for each size. All of adjustments...
10 results - showing 1 - 10