6 results - showing 1 - 6  
Tool Blog
Chris   August 16, 2013  
1
1
How do you make the popular Festool MFT even better than it already is? You give it a bunch of accessories. Lee Valley has put together a Veritas bench dog kit that turns the MFT into the ultimate work table. And if you don't have an MFT, they give you the drill bit to make your own.
News
Chris   May 06, 2013  
1
1
Kreg is making using their products a bit easier and a bit faster with their new line of Automaxx self-adjusting clamps. Best of all, they came out with a self-adjusting AutoMaxx Klamp that works with their existing Klamp line, like the Klamp Table or Klamp track.
News
Chris   August 27, 2012  
0
1
A miter joint that is tight with no gaps is what sets the pro's apart from the amateurs. One way to ensure that your miters are looking their best is to align them with a clamp before you try and nail them together. But you can't just use any clamp, and that's where the Trim Clip Miter Clip comes in.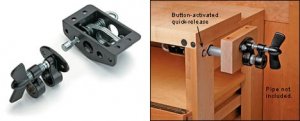 News
Chris   May 22, 2012  
0
0
Pipe clamp kits are a great way for people to make pipe clamps that they can customize to fit their own specific needs. The user just buys the size pipe they need, and they can put together a clamp in no time. Lee Valley has a new product that takes the same idea and applies it to a workbench vise.
News
Chris   May 01, 2012  
1
0
Do you ever have tricky angled joints that you need to clamp together? One of the ways we do this is by saving the cutoff piece and using it to provide a square surface to clamp off of. Well what if you didn't save the cutoffs or you are working in the field with finished materials? The Blokkz UCB Universal Clamping Block is another way to help you with those tricky angles and a lot more.
Cool Tools
Chris   March 11, 2008  
0
0
I stumbled across a link that lead me to Clam Clamps . It is a sweet little clamp that will clamp... well... miters. I have never seen anything like it before, but I am sure it would come in handy. The price is a little high at $75, but if it really does what they say it can do, then maybe it is worth the price. You also have to look beyond trim work. This bad boy looks like it can clamp any wood that has a 45deg miter. For me, this would really come in...
6 results - showing 1 - 6