Tool Blog
Chris   February 21, 2018  
2
1
When it comes to breaking down sheet goods, track saws are a great lower priced alternative to tablesaws, but a good portion of the cost of a track saw is in the track itself. Worx has found a way to lower the cost of their new WX530L ExacTrack Cordless track saw by allowing it to use any straightedge up to 1-inch thick as its "track".
Tool Blog
Chris   June 30, 2016  
0
7
DeWalt has come out with a revolutionary new FlexVolt battery that can automatically change its voltage from 20V to 60V to match the voltage required by the tool. Two FlexVolt batteries can also be combined to deliver 120V Max to tools that require even more power. Best of all, the new DeWalt FlexVolt battery pack is backward compatible with existing DeWalt 20V Max cordless tools.
Tool Blog
Chris   November 17, 2014  
0
1
We havn't seen much from Skilsaw over the last few years, but it looks like that just might change. Not only does Skilsaw have a new logo, but they say they are building on their past heritage and are expanding their line of professional grade power tools. One of their first new tools is the Skilsaw 10-1/4" Worm Drive (SPT70WM-22) aka the "Sawsquatch". 
Reviews
Chris   October 17, 2014  
0
14
When Milwaukee announced that they were coming out with an 18-volt cordless 7-1/4-inch circular saw I was both shocked and impressed. Why? Just months earlier one of their competitors came out with the first cordless 7-1/4-inch circular saw, but it required 2x18V batteries (36V). Could Milwaukee do the same with one less battery? To find out for myself, Milwaukee sent me their 2731-21 M18 FUEL Brushless 7-1/4" Circular Saw Kit to review.
Reviews
Chris   June 20, 2014  
0
9
One tool that everyone wants to be able to have as cordless, is the circular saw, and cordless multi-kits have been including them for years. But were these cordless circular saws any good? Nope. For years we have had to suffer with cordless saws that were so underpowered we wondered why we even bothered lugging them around—because they were convenient, that's why. When Makita announced their new XSH01 18V X2 Circular Saw, they promised us that their saw finally delivered the power and runtime that contractors need. And to make sure it is actually true, they sent us one...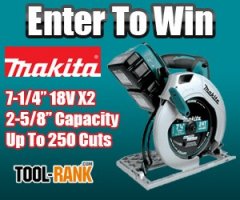 Tool-Rank
Chris   March 24, 2014  
0
1
Contest Information
Contest Ends
April 20, 2014
I am excited to announce that Makita has joined in on the giveaway fun and is offering up their brand new 18V X2 (36-volt) 7-1/4-inch Cordless Circular Saw for this month's giveaway. This saw gives you the power of a corded saw with the portability of a cordless by using two 18V batteries to give you a total of 36-volts of power. The added power that this saw offers also allows it to use a standard 7-1/4-inch saw blade rather than a typical 6 or 6-1/2-inch blade.
Tool Blog
Chris   January 24, 2014  
0
3
We all know how handy cordless circular saws can be, but we also know that they are usually lacking when it comes to overall power and battery run-time. Makita, continuing to expand their new 2x 18-volt (36V) system, showcased their new 2x Cordless 7-1/4" Circular Saw (XSH01Z) that I am sure addresses some of the cordless circular saw shortcomings that we have all come to know and dislike.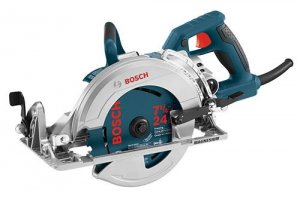 Tool Blog
Chris   January 21, 2014  
0
2
Not too long ago Skil came out with a new Magnesium Worm Drive Saw, and people on the internet quickly noticed that it looked less like previous Skil saw designs and more like the worm drive saws by Bosch. Well that news wasn't that surprising considering both brands are part of the Robert Bosch Tool Corporation. Now Bosch has announced that they too have come out with a new Magnesium Worm Drive Saw (CSW41), and except for the colors and some branding it looks just like the Skil MAG77LT. So did Bosch copy Skil who copied Bosch, or did...
News
Gary   June 17, 2013  
4
8
sym•po•si•um [sim-poh-zee-uh m] n. a dynamic conference organized for the discussion of the latest innovative Milwaukee tools Before highlighting a sample of the many great tools revealed in this event held last week, it was helpful for me to first check my dictionary for the proper usage of the word; and though Webster might not have defined it exactly this way, having first-look at Milwaukee's latest innovative tools indeed made the Milwaukee tool new product symposium a dynamic conference. With expert product managers showcasing tools like the latest M18 FUEL cordless line; a M18 cordless LED...
News
Chris   April 23, 2013  
1
1
There is no doubt the original Skil77 is still a popular tool on the jobsite and it has seen few changes over the years. People seem to be happy with the design and always ask that it be left alone, but when pushed further they do wish it were lighter. The MAG77 was Skil's first lighter 77, but the MAG77LT goes even further.