3 results - showing 1 - 3
Tool Blog
Chris April 21, 2015
0
1
Minuteman is doing it again. They are giving 25% of the profit from each Minuteman Pocket Knife sold, to charities that assist Veterans and their Families. The TR4 Manual limited edition knives are made in the USA, using materials sourced in the USA, to help veterans of the USA.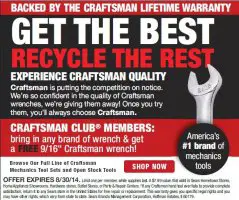 Hot Deals
Chris August 07, 2014
0
1
How would you like to get a free Craftsman 9/16-inch wrench and help out Military Families at the same time? You see, Craftsman wants to donate up to $25,000 to Rebuilding Together to allow them to make critical repairs to military families' homes, but they need your help. Your reward is a shiny new Craftsman 9/16" wrench.
Manufacturer News
Chris December 17, 2012
0
0
Bosch is in a unique position as a company to really help out the victims of hurricane Sandy, and they have committed $340,000 in aid to do just that. Not only is Bosch a huge power tool company that can aid in the rebuilding efforts with their tools, but Bosch is also a leader in home heating, solar, and more. Teaming up with Lowe's, GM and Habitat for Humanity, they will be sending out 24 'Mobile Response Units' to the areas affected by the storm. Continue on to the official press release to read more about the...
3 results - showing 1 - 3