8 results - showing 1 - 8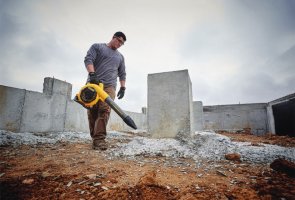 Tool Blog
Chris   March 16, 2017  
0
4
After DeWalt only recently came out with their Flexvolt system to address the needs of power hungry cordless tools, they have expanded the line to include the growing market of cordless outdoor power equipment. The DeWalt Flexvolt Outdoor Power Equipment lineup will include a new 60V Max Chainsaw, Handheld Blower, and String Trimmer.
Tool Blog
Chris   September 21, 2014  
0
1
Black+Decker will be coming out with a pair of new 40V MAX (LCS1240) and 20V MAX (LCS1020) Lithium-Ion cordless chainsaws this November that they say provide the "convenience of cordless maneuverability" with "performance for cutting through dry wood and live logs".
Reviews
Gary   June 27, 2014  
1
7
The internet is replete with opinions on what makes a chainsaw a professional grade tool and not merely a homeowner appliance—with many of these viewpoints putting the farm/ranch quality of saw somewhere in the middle. But whether you are a homeowner on a Sunday afternoon; a rancher with an empty woodshed, or have achieved logger status with sights set on the General Sherman itself—you should expect performance and dependability from your chainsaw. So, in a quest to find what any serious woodcutter would want in a saw, I took a close look at the Echo CS 590 Timber Wolf...
News
Chris   May 02, 2013  
0
1
It may not be very well known, but Makita as a worldwide company has a pretty extensive line of outdoor power equipment. Still, I was surprised to see a couple of cordless chainsaw SKU's make an appearance on their U.S. website.
Gadgets
Chris   February 12, 2013  
1
2
Think that just because you use a chainsaw to hand carve sculptures out of logs that your job is safe and irreplaceable? Think again. One robotic articulating arm with chainsaw attachment is gunning for your job.
Manufacturer News
Chris   June 19, 2012  
0
4
The Worx JawSaw is one of those tools you see on the commercial and at first glance you dismiss it as being just another infomercial tool. Then you see the commercial again and start to realize it has possibilities. At third and forth viewing you begin to imagine how you would use the tool and how handy it would be to trim that overgrown tree in the backyard, you have now started to realize the potential of the tool. There is more to this than just being another tool on an infomercial. But maybe what you didn't realize, and...
News
Chris   June 06, 2012  
1
0
When you need to cut compound miters a miter saw is usually your best bet. But the miter saw does have its size limitations and usually maxes out at a 4x4" capacity. When you need to make bigger cuts you need to look to other tools, and this chainsaw timber cutting guide from Ligna Tool, surprisingly, looks like it can match a miter saw for accuracy.
News
Chris   November 19, 2010  
0
0
The great thing about using pole saws is the ability to trim your trees without having to actually be in the trees. Their long extension lets us work safely on the ground or from a ladder. With all the great things these saws offer, there is also some bad. Because of the long reach, it is often hard to get any downward pressure on the saw blade to make a cut. My Father and I know all about this; just last month we were trying to cut a branch with no success. In comes...
8 results - showing 1 - 8