6 results - showing 1 - 6
Tool Blog
Chris August 11, 2014
0
1
Sometimes when you want to drill a hole there is more than just wood you have to deal with. Ideal's new Tri-Bore Hole Saw features Tungsten Carbide which allows it to cut through cement board, plastic board, plaster, composite materials, and even nail-encrusted wood.
Tool Blog
Chris February 12, 2014
0
0
Ideal is probably not the first company you think of when you think about drill bits, but they are looking to change all that with the introduction of their new line of professional grade drill bits. Catering to their core audience of electricians and technicians, Ideal sought to improve the drill bits these contractors use most.
News
Chris June 04, 2013
0
1
The really bad thing about oscillating tool blades is that they can't really cut into any hard metal and last for more than a few seconds. We have all been spoiled with the amazing powers of carbide and anything less seems like we are using a butter knife. So Bosch is giving us what we need in their OSC114C, a carbide tooth oscillating multi-tool blade.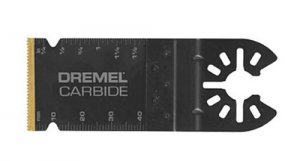 News
Chris April 22, 2013
0
2
Dremel has come out with a new carbide oscillating tool blade that they say is the first oscillating tool blade on the market with high performance carbide teeth. These are unlike previous carbide oscillating blades that feature only carbide grit.
News
Chris May 10, 2012
0
0
Since Bosch is the company that introduced us to the OIS (Oscillating Interface System) and has set the standard that most of the other brands are following, it seems fitting that they should be the ones to keep the flow of new blades and accessories coming. Titanium is the logical next step.
News
Chris May 04, 2011
0
0
Utility blades never seem to last long enough, and now finally somebody is doing something about it. Stanley has launched a new utility blade that uses carbide to help strengthen the edge of the blade. They use some cool new laser technology that deposits tungsten carbide powder onto the edge of every blade, then use diamond wheels to grind on a razor sharp finished angle. This new procedure is said provide the blades with an edge that outlasts the competition by more the five times, but still remains flexible. "The introduction of the new...
6 results - showing 1 - 6