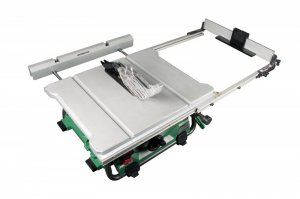 Tool Blog
Chris May 21, 2019
1
4
Metabo HPT is expanding on their MultiVolt cordless/corded tool line with the introduction of a 10-inch Portable Jobsite Table Saw. Metabo HPT  MultiVolt Tools like the new C3610DRJQ4 Table Saw can accept a 36V MultiVolt Battery or plug into a standard 120V outlets using their AC adapter.
Tool Blog
Chris March 09, 2015
0
1
Is this the year of cordless brushless drywall screwdrivers or what? Not long after the other brands announce their models, Bosch hits us with their very own. So what sets the Bosch SGH182 Screwgun apart from the rest? At 3.5lbs with a 4.0Ah battery, it is the lightest of the bunch, but it might also be the most powerful.
Tool Blog
Chris February 27, 2015
0
1
Rockwell is proving that they can keep up with the big boys by coming out with their own brushless Drill & Impact Driver Combo Kit. Their brushless motor technology increases battery runtime by 50% per charge over brushed motors and is backed by a 10-year warranty.
Tool Blog
Chris February 18, 2015
1
2
DeWalt wants drywall carpenters to Get More Done, thanks to their new DCF620 20V Max Brushless Lithium Ion Drywall Screwgun with Extended Runtime battery packs. The combination, they say, is what professionals need to get the job done without the hassle of long extension cords.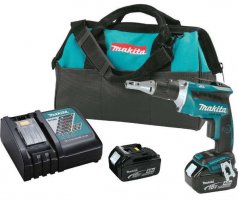 Tool Blog
Chris January 05, 2015
0
3
Makita has come out with a new 18V cordless, brushless drywall screwdriver (XSF03M) that is powered by their new 18V 4.0Ah batteries, which they say has the power and performance of a corded drywall screwdriver. The benefit, of course, is that there is no cord to get in the way.
Tool Blog
Chris October 27, 2014
0
6
Recently, at the GIE Expo, DeWalt announced that in March of 2015 they will be coming out with a new line of 40V Max Outdoor Power Tools. The Line will consist of both 4.0Ah and 6.0Ah 40V Max Brushless String Trimmers, Brushless Blowers and they will even have a Hedge Trimmer available.
Reviews
Chris October 17, 2014
0
14
When Milwaukee announced that they were coming out with an 18-volt cordless 7-1/4-inch circular saw I was both shocked and impressed. Why? Just months earlier one of their competitors came out with the first cordless 7-1/4-inch circular saw, but it required 2x18V batteries (36V). Could Milwaukee do the same with one less battery? To find out for myself, Milwaukee sent me their 2731-21 M18 FUEL Brushless 7-1/4" Circular Saw Kit to review.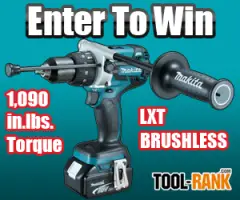 Tool-Rank
Chris October 01, 2014
0
1
Contest Information
Contest Ends
October 31, 2014
Tool-Rank is happy to be teaming up with Makita this month to give away their brand new 18V Brushless Hammer Drill/Driver. The Makita XPH07 delivers the most torque in its class at a jaw-dropping 1,090 inch pounds. Not only is it powerful, but Makita packed in all kinds of fancy technology that ensures that you get the most runtime out of your tool. To learn more about the XPH07 be sure to read my initial write-up on the new hammer drill.
Tool Blog
Chris August 29, 2014
0
1
Makita is continuing to expand their Brushless line of cordless tools, this time with a new 3-speed ½-inch Impact Wrench, model XWT02M. The new impact wrench kit will also include the new Makita 4.0Ah batteries, which have a best-in-class charge time of only 40-minutes.
Tool Blog
Chris August 19, 2014
0
1
Makita has just announced their newest brushless hammer drill, and it looks like they are not messing around this time. They say the XPH07 18-Volt Hammer Drill is able to deliver a full 1,090 in.lbs of torque, and leads the category in torque, speed, and run-time.